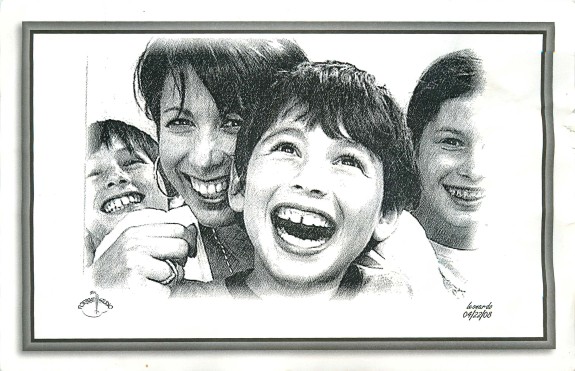 I'm sure you've figured out by now if you've been reading my blog, that I am a sucker for those wacky family photo opportunities and seek them out everywhere we go. One of my all time favorites was a portrait drawn by this photo booth contraption called "Leonardo" (which I'm assuming is named for Leonardo DaVinci) that we happened to discover at Adventure Landing in Dallas-a really cool family fun zone type of place with an arcade.
We sat down tried our best to figure out how the machine worked with all three kids chiming in.  Our gifted Leonardo gave us 2 options. He could draw us as ourselves with a fine pencil or he could draw us as a cartoon....Hmmm decisions decision! After reviewing our options and dying of laughter, we opted for a more classic look  as we attempted to hit the right buttons while posing.  $5 dollars later we grabbed our priceless souvenir. To this day, in all our travels, we've never seen another machine like this.
Have you found any awesome photo machines on your travels? I'd love to put together a post of awesome photo booth portraits.  If you've got a great one email me at alisa@exploreall50.com.