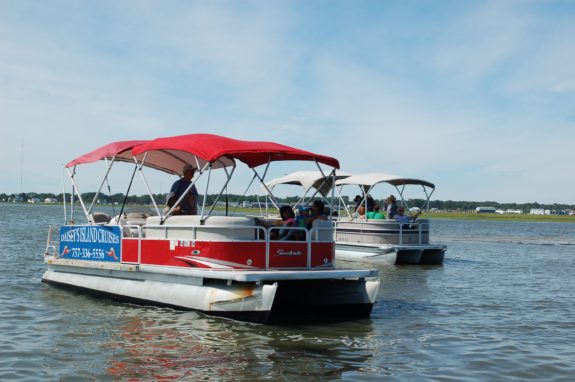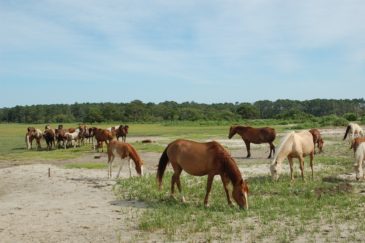 Virginia's Chincoteague Island is a quaint, beautiful and slightly wild place. By far one of the best ways to take it all in is on an island cruise aboard a pontoon boat.  In fact it's one of the only ways to get up close and personal with the islands most famous residents, the Chincoteague ponies. There are several operators but after doing a bit of research we decided to go with Daisy's Island Cruises and I am thrilled to tell you it was the best experience ever! 2 hours went by way too fast, I literally did not want it to end.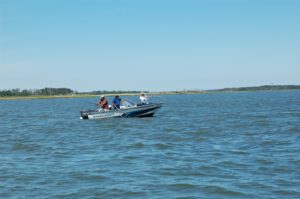 We were introduced to our Captain, Fred the local high school science teacher who takes over as a cruise captain and guide during the summer months. After signing all our waivers and settling our account we headed out to the dock. I am ashamed to admit I was shocked to find the boats sparkling clean..I'm talking immaculate and looking brand new. We hopped in and made ourselves comfortable under the shaded canopy. We set off around the island in search of the ponies. Captain Fred was a wealth of knowledge filing us in on the nature and history of Chincoteague Island. After a 20 minute ride past fisherman, lighthouses, summer homes and even oyster beds, we set our eyes on some wild horses hanging out near the shoreline. Captain Fred cut the motor and we very slowly and silently came very close to shore.
Captain Fred introduced us to the herd calling out the blonde maned Stallion Riptide who heads the group (he even looks like a surfer horse). These horses were so peaceful and beautiful and totally wild, making the  their home. Unless you are cruising on a quite boat, there is no way to get up close enough to see them.
Over the course of the 2 hours we had a few more opportunities and Captain Fred got us super close, practically on shore.  In fact we got so close our boat got stuck in the sand and a fellow captain had to to help push us out. All in all it was a fascinating trip and if you find yourself touring the Island, check out Daisy's. We rate it a top notch, DO NOT MISS experience!!