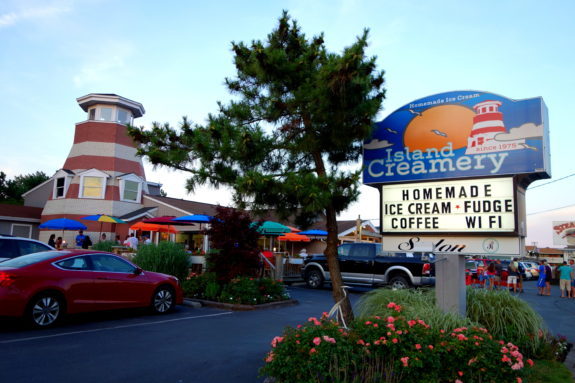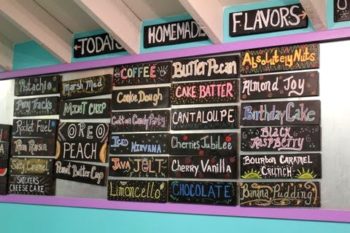 As you know by now, we've tasted ice cream all across the country.  One thing we know for sure, if there's a line out the door, it's a pretty good sign that it's going to be good. The minute we set foot on Chincoteague Island the locals told us not to miss The Island Creamery with tips on the best times to avoid the crush. We finally made our way over after dinner and even though the line was out the door, it did move fairly quickly and the wait was most definitely worth it. Look for the lighthouse, it's hard to miss.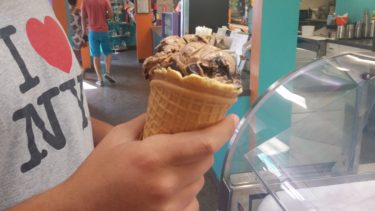 Their flavors are pretty unique and run the gamut from birthday cake with gobs of frosting mixed it, to a buzzy coffee swirl with bits of crunchy coffee candy, the just about something to please any palate-in fact I have to admit, it was super hard to make a decision. The good thing is, they will patiently let you taste whatever you want. I settled on the Java Jolt and it did not disappoint even though coffee flavored ice cream is not usually my thing. In addition to the standard issue cake or waffle cones, they've also got some awesome home made waffle cones that are excellent. Servings are HUGE!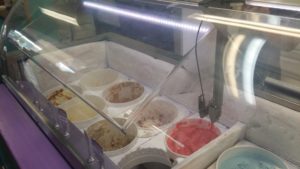 All our tasters agreed, very creamy and definitely worthy of our top ten ice cream list. If you find yourself on Chincoteague Island, this is a Do Not Miss stop. Luckily they're open till at least 10pm because all the dinner places close at around 8pm-giving you plenty of time to enjoy a creamy dessert on a beautiful summer night.