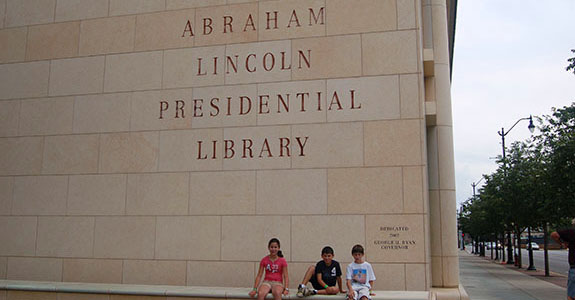 The kids and I have been to a few Presidential Libraries, and I have to say The Abraham Lincoln Presidential Library is by far our favorite. Venturing inside there is so much to see you will be a little overwhelmed.  We were totally enthralled by the life-like displays that sort of mimic movie sets.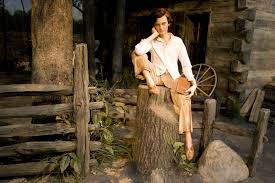 It's best to start at the beginning with a replica of Lincoln's boyhood cabin.  The kids and I were really shocked at how small it was and what poor living conditions our 16th president endured as a boy. Later, We made our way into a specialized theater to watch a movie about Abe Lincoln's  early life.  The theater featured total surround sound with subwoofers under the seats that vibrate at action scenes- it was a little bit much if you asked me, but this museum is so state of the art and kid friendly that it fit right in with all the rest of the exhibits many of which give you that "you are there" type of experience
Touring through the rest of the museum we saw many historic and priceless artifacts, such as Lincoln's stovepipe hat and other personal possessions many related to his law practice right here in Springfield. We learned so much about this incredible man, his tragic family life, his monumental contributions, and how he changed the course of history in our great nation.  If you are a Lincoln buff you could spend days in hear reading all the displays, which made me wonder what other priceless artifacts they might have hidden away out of view.  Because it is so well done the library does have a little bit of a Disney feel, but that doesn't take away from what you will see and learn here-It just makes it more interesting for kids and who better to inspire? Oh and before you leave, make sure you take a picture with the Lincoln family.…A beyond…DO NOT MISS!