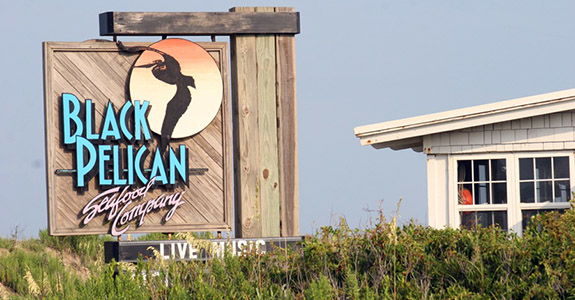 For dinner,we made our way to the Black Pelican and highly recommend it for a memorable meal.  This place which is located right on the beach, get's packed so make sure you make reservations in advance.
While we waited for our table, we perused the huge gift shop located in the restaurant.  There were all kinds of fun things to check out here which helped pass the time while we waited to be seated.  I found the most amazing souvenir ever and had to have it....I bought a shellacked blue crab.  It is "handmade" by a local artist who signs every one he makes.  I am not sure how he gets all the insides out and preserves the crab but it's really pretty and a great conversation piece.  The nice lady at the counter packed it well, and I guarded it with my life the whole rest of the trip home.  I am happy to say, the crab survived intact and now rests on my bookcase-a great reminder of the awesome time my kids and I had together.
As we were being seated we learned that this unique building was constructed in 1874 and used as a United States Lifesaving Station. In 1903, after their successful First Flight, the Wright Brothers sent the telegraph announcement from right here which was then called Station # 6.  On a wall above one of the booths you can see the plaque which is the exact location of where that historic message was sent out.
There are tons of seafood choices to satisfy every taste and steak, chicken, pork and even wood fired pizzas for those who don't want fish.  The service was super friendly and the fish that we ordered was just fantastic.  Pecan crusted mahi mahi, blackened salmon, grilled tuna steaks... oh boy was it delish!  Worth the wait and one of the best meals we had on the trip.  If you're visiting the outer banks and up for a nice meal, you won't do better than the Black Pelican.  We give it a huge thumbs up!