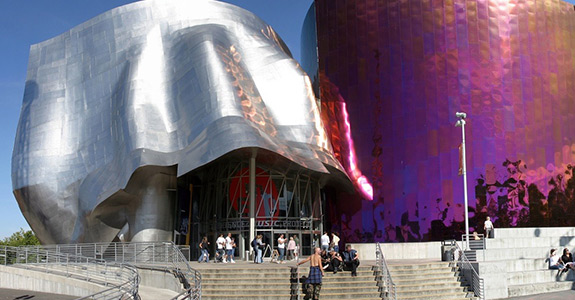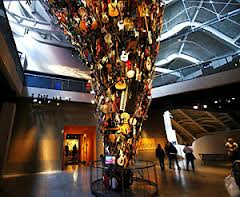 The Experience Music Project is definitely one of our most memorable museum experiences of all time. Created by Paul Allen of Microsoft fame, it's sort of like a museum about music, but not quite…it really is an "experience" and one  that  everyone should partake in. Walking in, we were immediately awestruck by the "tornado" of guitars that stretched 3 full floors. Inside you can explore music history with permanent and changing exhibits.
On the top floor you are encouraged to play and explore all kinds of instruments and equipment which all of us just could not get enough of.  It can be frustrating when the booths are occupied, but once you get in, it's totally worth the wait. Bang on the drums, learn what a chord is, find out how different instruments work. If you've ever wondered about those big mixing boards in a recording studio (I know I have-seriously, why do they need all those buttons), you can learn what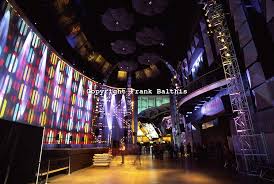 they do,  We got to mix our own version of the Eurythmics "Who's that Girl"and I have to say, I kind of liked our original mix better.
For an extra fee, your group can go into a "recording studio" with instruments that play themselves. We did it and rocked out- it was just too much fun. You can put on costume props like afro wigs, feather boas and a ton of other goofy stuff (go ahead, channel your inner Steven Tyler), and print tickets for your band. My kids and I named ourselves "Dirty Laundry" (because they happened to like the Don Henley song, believe it or not). You'll also be given a nice, big, souvenir photo to commemorate your debut-sure to generate a million comments for generations to come. A definite DO NOT MISS!!!