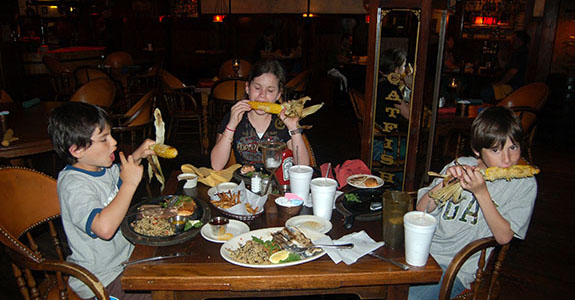 Fort Worth is an amazing town and since we were staying near the stockyards we thought we'd sample some of the local fare.  We stumbled upon the H3 Ranch and all I can say is WOW that was one of the best road trip meals we have ever had.  The smell drew us in just like in those old time cartoons.  We  settled into our big leather seats with a great view of the wood fire grill. They have amazing BBQ steaks and ribs, and the next time we're in Fort Worth we'll give it a sample but at the time we were weren't eating meat so we had their rainbow trout which was absolutely fantastic and one of their specialties.  The fire roasted corn which is an H3 Ranch favorite was out of this world!  My dad is a BBQ junkie and likes to roast corn on the BBQ every now and then but I've got to tell you, he's got nothing on the H3 ranch.   We complimented everything with some sauteed spinach, french fries, some dinner rolls, and we were stuffed.!
As we were finishing up our meal some fellow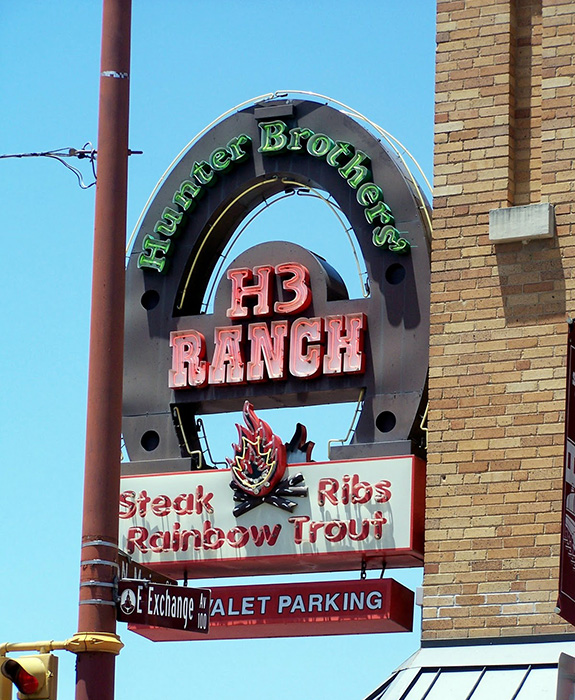 diners came over and complimented my kids for being so well mannered and behaved.  My heart just swelled with pride as big as Texas itself.  It's really nice to know that all the things I've told them like "chew with your mouth closed", "put your napkin in your lap" as well as how to properly hold a fork and knife, they have taken to heart.  Manners are so very important and are sadly not being taught as they should by enough parents today.  I guess I just feel manners are another tool that my kids need to have in their little toolbox to help them achieve success and it's my job as a parent to teach them.  Thankfully, I was raised in a home where good manners were important and G-d willing my kids will teach their children..We all left after a good wipe down with some wet naps with our stomachs full and that's always a good thing when you're traveling with a crew of 3 picky kids.  Afterwards we marched down the street to Billy Bob's world famous honky tonk for a rip roarin' good time.