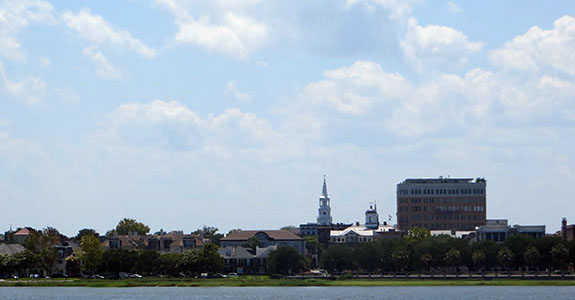 Charleston is a beautiful and charming city that has a long and storied history as a port city on the shores of South Carolina. The Historic District is a wonderful place to explore some of the well preserved architecture and take a peek at life during an earlier time period. Everywhere you look, restaurants, shops, hotels are all housed in these amazing old buildings oozing with decorative charm.
If you want to experience the inside of some well preserved homes you can check out the Nathaniel Russsell House Museum which is one of the finest examples of an American dwelling in the neoclassical style. Nathaniel Russell was a wealthy trader who made the seaport of Charleston his home, exporting many of the colony's goods such as rice, tobacco and cotton and importing other items needed by the colonists, including slaves. The house reflects the grandeur of a wealthy trader in the early 1800's.
The other house museum worth a visit is the Aiken Rhett House Museum built in 1820. This home has a long and storied history and had been maintained by the Aiken Rhett family for 142 years. This home is unique in that the slave quarters are still preserved as well as the family's art collection still remains in the home.
Both these house museums and the Charleston Museum are all operated by the Charleston Historic Society and tours can be purchased for the homes. Sadly we did not have the time to visit, but if you do, it's a great way to gain insight into life here.
As we did walk around through the Historic District, the kids and I talked about the importance of Charleston and how being a seaport led to the growth of the city. The colonists grew crops to trade and the only way they could get to their goods to market in Europe was by ship. Yes, the colonies were about religious freedom, but they were also about trade and making money. And so as goods came in and out of the harbor, cities like Charleston became pools of wealth which financed the arts and culture among other things and have given us the beautiful city of Charleston that we have today.
Having this chat while walking around the historic district was another "lightbulb moment". The kids suddenly connected the dots about the colonies, trade, wealth and the arts. The whole picture, cause and effect and American history suddenly came together and made perfect sense. Those are the moments I live for, watching my kids analyze history as a series of a chain of events, learning to think critically and putting the pieces together in their head. Those moments are what make these trips so valuable and worthwhile and completely gratifying as a parent. As you tour Charleston, I hope you too,take a moment to reflect on the city's history and connect the dots for yourself.