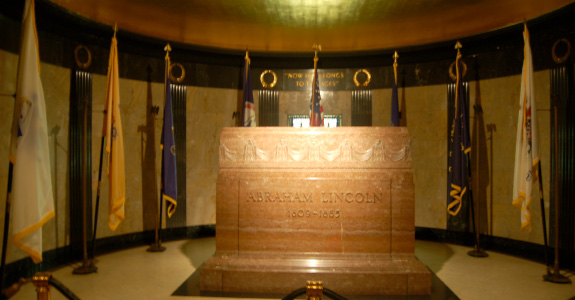 Lincoln's Tomb State Historic Site is indeed is the burial place of Abraham Lincoln one of the most important presidents in the history of our country.  The entrance to the tomb is marked by a beautiful monument with a bronze statue of Mr. Lincoln. We read in a few of our guidebooks that we were supposed to rub the nose of the statue for good luck.  Walking up we noticed that the nose was quite shiny so each of us went ahead giving it a rub hoping any luck President Lincoln could give us would come our way. We had a wonderful and stress free journey along the rest of our road trip so I am inclined to say it worked.  Never mess with tradition.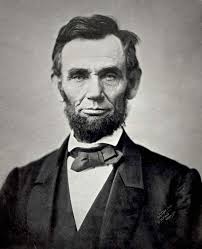 Moving inside we found ourselves in a small room with a large stone  tomb where inside lies the casket with his body inside. A mood of solemnity overcame all of us.   When I entered the tomb, I knew I was in the presence of greatness and humility and all of us stood in absolute awe.. We paused for a few minutes to pay our respects to one of the greatest men in American history. My kids were completely blown away. Joel kept asking if his body was really in there as it was so hard for him to comprehend that THE Abraham Lincoln's body lay right here in front of us. It is there because his wife Mary requested his remains be returned to their home in Springfield.
I stood there and in my heart I thanked him for his great service to our nation, for setting our country on the right path, and for having the courage to make some of the most difficult decisions any leader has ever faced. I am very proud of my children for handling themselves well and  for showing respect which sometimes for kids can be tough to do in situations like this.  This experience touched all of us to the core and is something neither my kids, nor I, will ever forget. At that moment, I felt the sadness of the nation who lost their beloved president to an assassin's bullet. He was so beloved even to this day because he was ordinary and yet extraordinary.  If you ever get the opportunity to get to Springfield, please go to Lincoln's tomb and pay your respects and say thank you to a man who devoted his life to making America great.