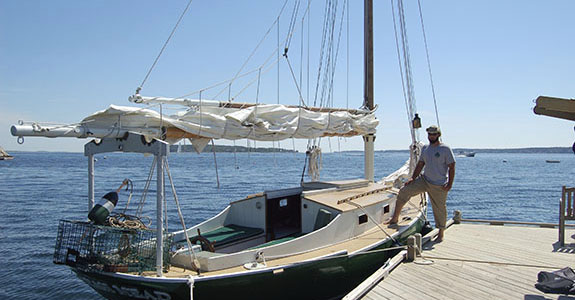 Lobster fishing is a pretty big deal in Maine since Lobster is one of those things Maine is most famous for.  Lobster is on the menu of just about every restaurant and folks stand in lines for some of the more famous lobster roll stands.  We don't eat lobster (we only eat fish with both fins and scales because of our dietary restrictions) but I still felt it would be "wicked awesome" to go lobster fishing.  Online searches will find you lots of guys with boats who will take you out.  We chose the Sarah Mead, the only lobster fishing sailboat that sets out from Boothbay Harbor.  We ate a delicious lunch at a restaurant overlooking the harbor  (we found out btw, that Haddock makes incredible fish and chips) and then drove to The Spruce Point Inn-a gorgeous  vacation resort where the Sarah Mead was docked.  The Sarah Mead can take up to 6 passengers but it was only the 4 of us on that sail.
We met Captain Nate, and his deckhand, loaded up and set sail to set some 'pots" or lobster traps.  I love the show "Deadliest Catch" so it was interesting to talk about the similarities and differences between lobster pots and crab pots.  A lobster pot is a little metal frame box with netting around it.  There are a couple holes where the lobsters can crawl in, but then can't find their way out. it's baited with mackerel (which we caught while sailing) and then dropped into the ocean with a buoy attached and left there for days.  We learned that each fisherman's buoys are painted in their own unique colors.  The fisherman's code is to never touch another fisherman's pots and also never to keep lobsters that are too small.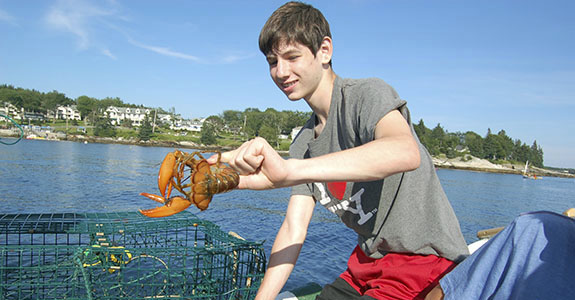 Captain Nate sailed out to his "special secret spot" and dropped a pot and then we sailed back to pick up two he'd dropped earlier.  The boys helped pull the pot up and everyone was eagerly anticipating seeing what we'd caught.  The first one had nothing, and the second one had 1 little guy.  We measured him up, but he was just too small. Captain Nate, explained the anatomy of the lobster and the little guy was waving his claws and flapping his tail-which by the way is how they swim.  We figured out it was a boy based on the size of some of the appendages underneath his tail. After everyone took a picture with it, even Lilia (which shocked he heck out of me, as she hates bugs and to me this looked like one big bug from the sea), we bid our fond farewells and she tossed it back into the ocean.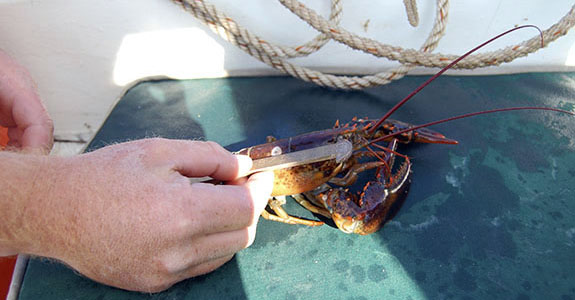 It was pretty fun to sail around the harbor and hear some of Captain Nate's stories.  He gave us a little history of the area, telling us that one of the islands we passed had been a stopping point for runaway slaves heading to Canada.  He also told us that when lobster fishing season is over,  he works on an oyster farm in the freezing cold Maine winter.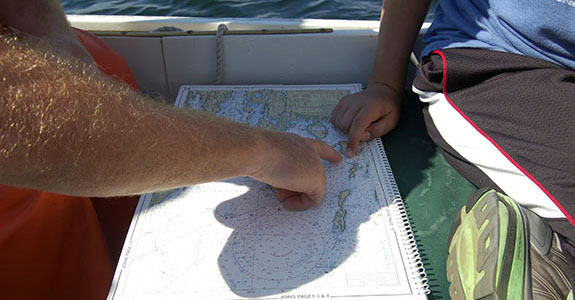 We had an awesome time, in fact it was really one of the highlights of the whole trip.  We highly recommend The Sarah Mead and hope you'll give them a call if you are heading that way.