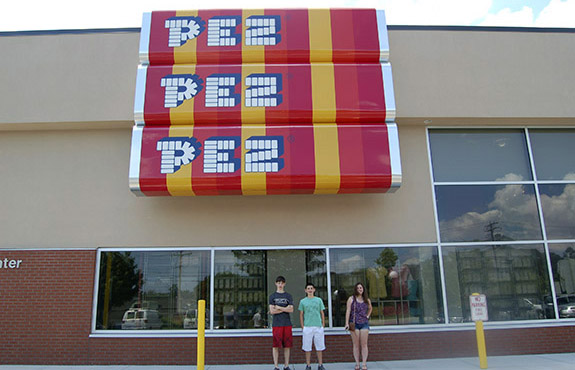 I don't know about you, but my kids and I LOVE Pez.  Checking out the Pez Visitor Center was definitely the highlight of the day, and one of the most memorable things on the trip.  Driving up from New Haven, our GPS took us through this weird little residential area, and when we turned a corner we came upon this big commercial building with huge bright Pez wrappers hanging on the top.  The kids were squealing with delight and I have to admit so was I...we were so excited we could hardly contain ourselves.  After heading to the rear of the building we checked in and were each given a lanyard with our visitor badge and a coupon for a discount in the Pez store. We hadn't even gotten into the door yet and the we were already high on the sugar rush just from the anticipation.
This place is like a little mini museum of all things Pez.  There are tons of display cases featuring all kinds of Pez dispensers. There's also a neat interactive trivia quiz where we learned that Pez was initially invented as a little mint tablet with it's own dispenser-who knew?.  When they made the candy version the thing really took off.  I was blown away at how many dispensers designs they've actually made.  Can you guess which one was the most popular?  I don't want to give it away, it's one of the trivia questions (hint-it has to do with a major holiday ho ho ho).  There's also a little booth where you can make and email a video while you profess your love for Pez. Behind glass windows you can also watch how the candy tablets are made and wrapped in the factory.  We'd never seen so much Pez candy in our whole lives-it was mind boggling in the best of ways.
And and then the big decision...what to buy.  My kids each grabbed a little bucket and filled it with Pez (each flavor has it's own pull down dispenser so you can pick whatever you like).  There were probably about 8 different flavors but we tended to stick to the original fruity ones like lemon, grape, and cherry and orange. They had some really cool dispensers.  I admit I love Hello Kitty so I got a collector set of those. They had a set as part of a series of US Presidents.  I passed since the first set of the series was sold out.  Everyone got a dispenser and then we set off on our intense sugar high back on the road.  If you love candy, (and who doesn't), this is a DO NOT MISS!