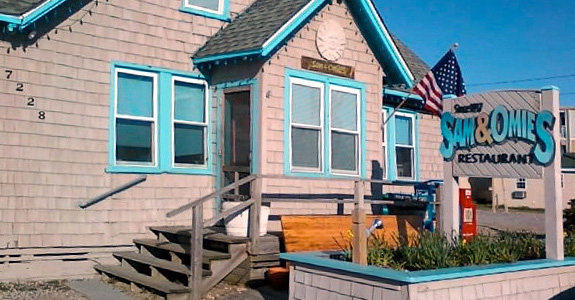 Billed as an Outer Banks favorite, and now we know why—Sam and Omie's restaurant is nothing fancy but it's good cooking with simple fresh ingredients.
Walking in to the charming but crowded little beach shack we seated ourselves as the sign told us to do.  Shortly our friendly waitress arrived with menus.  They've got all kinds of sandwiches and burgers and a host of seafood specialities. We had the Greek salad with a piece of marinated grilled tuna on top. It was so simple and just delicious!
Sam and Omie's has been around since 1937 so they are definitely doing something right.  There all kinds of little stands and burger shacks on the outer banks, but if your looking for more of an indoor sit down place then this is it.  To this day, my kids talk about that salad and the tasty grilled tuna on top.  My kids are the pickiest eaters I know, and if they liked it, bet my bottom dollar you will too.!
BTW, when you visit, pick yourself up a cool hat or t-shirt.  We bought one for my boyfriend Jordan and he wears it all the time!