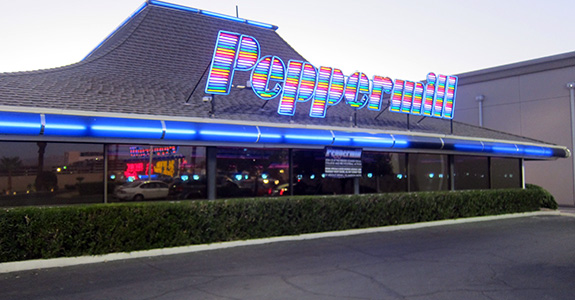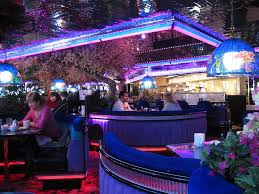 What do you get when you cross an all American diner with a 80's Vegas nightclub? You get The Peppermill! Open 24 hours and always busy with crazy awesome decor. This place will satisfy even the hungriest of eaters with their enormous portions but a word of warning-be prepared to wait to be seated. They don't take reservations so just hang in there because the experience will be totally worth it.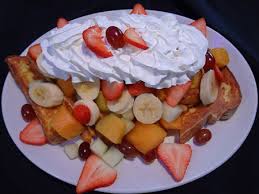 Once you've been seated, check out the huge menu. Got a craving for eggs or pancakes? They've got you covered.  How about a deli sandwich or a tuna melt or a burger? No problem.  Just be prepared because whats coming on that plate will be big enough to feed an army. Their pancakes are about 10-12" in diameter and their egg and omelette dishes  are 4-6 egg mountains of breakfast deliciousness-I am not kidding.  No one in your group will leave hungry, even your most ravenous teenage boy of which I have 2. It was nice for a change seeing Isaac and Joel tell me they were stuffed and couldn't eat another bite.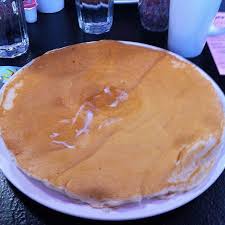 The best part is the hostess who comes over to snap a free souvenir photo that comes complete with a little protective/decorative sleeve to remember your visit. I wish I could find mine to show you ours, ugh it's probably in a drawer somewhere.  So the next time you find yourself in Vegas with or without the kids, make you sure you head over to The Peppermill. It's a Do Not Miss and one of our top 10 most memorable breakfast experiences.