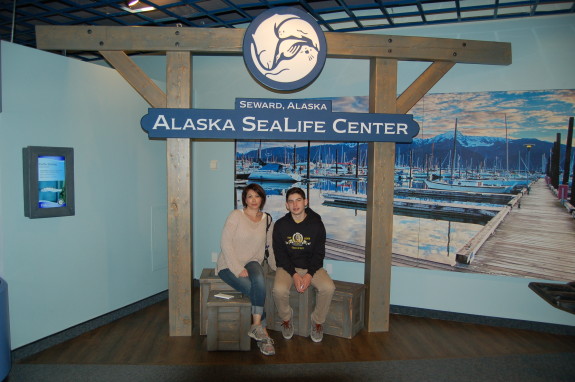 As traveling explorers, our mission was to learn and understand all about Alaska,-it's history, resources, culture and economy, and the Alaska Sea Life Center was a great opportunity to do just that. A large part of Alaska's economy involves the catching and processing of a variety of fish and seafood that is sold to local, domestic and international markets. We very often take for granted the food that ends up on our plate so visiting this very unique "aquarium" was a great place to learn not only about the local sea life but also what it means to eat responsibly.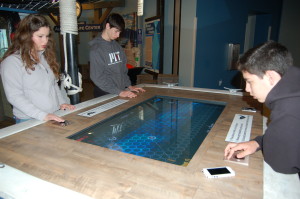 The rivers and oceans in and around Alaska are teeming with all kinds of creatures and we were able to see and learn about many of them.  What set this place apart from many of the other aquariums we've visited all over the country is it's focus on teaching the importance of responsible fishing and sustaining wild populations.  Alaska is one of the last truly wild places and Alaskans are passionate about keeping it that way. We were all engaged in the interactive exhibits, even playing on a video touchscreen to see if we could fish responsibly without completely depleting the fish population. I felt this was a great way to explain the problem of overfishing. If you take too many fish it 's game over! In the electronic age, sometimes that's the only way kids get it.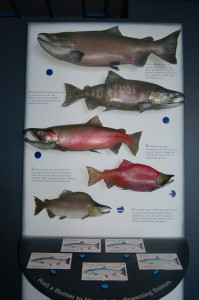 Salmon is probably Alaska's number one fish that supports the local economy.  At the center we learned all about the different species (which was great so we could know what we might catch later in the day as we fished on the Kenai River) and how to differentiate them. Some we already knew just from eating them at home like King, Sockeye and Coho-in fact my kids and I could probably tell you which is which blindfolded just by the taste. But it was interesting to learn about the many other species, their life cycle and uses.  It is so important to get in touch with where your food comes from.  That is one of the reasons I began taking my kids on these trips, to teach them that food doesn't come from a package.  I really think it's important to respect the creature that ends up on our plate and recognize that it was once a living breathing thing. It's also important to recognize what it took to get it to you, and to make sure that you buy products that are responsibly fished. The Alaska Sea Life Center is a great place to start in terms of getting a real education about where your seafood comes from.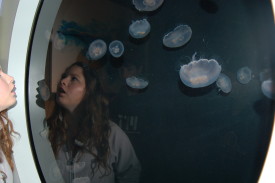 Throughout the museum there were all kinds of tanks showcasing the native sea life featuring the usual suspects that we see at most aquariums, like sea stars, jellyfish, shrimp and crab. I have to admit as great as this place is, I still felt a twinge of sadness.  Watching a really large seal swim from side to side with not much to do in a small enclosure felt like peeking into animal jail. I hate when they put these large animals in small spaces for people to gawk at. It was definitely more fun watching much smaller creatures like the puffins and other sea birds in a really big display swim around and then dive down to eat and play.
If you are lucky enough to get down to the Kenai Peninsula and Seward in particular don't miss the Alaska Sea Life Center.  It no substitute for a whale watching tour or wildlife cruise around the area where you can see creatures out in the wild, but it is a super place to learn about what Alaskans hold dear, the importance of keeping Alaska wild for generations to come.