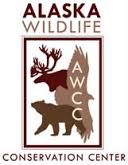 Making our way to Seward from Anchorage we stopped at the Alaskan Wildlife Conservation Center.  As you've probably figured out if you've been reading my posts, I am not a huge fan of zoo's or any place that confines animals in small places for people to look at.  While  it does feel like a zoo as there are fenced in areas to view various species of native wildlife, the center has a higher purpose than just offering a chance to get up close to some of the animals (which made it worth a stop in my book). According to their website, "The Alaska Wildlife Conservation Center is a nonprofit organization  dedicated to preserving Alaska's wildlife through conservation, public education, and quality animal care".  In that capacity, many of their "residents" are orphans that were abandoned by their parents for whatever reason in the wild.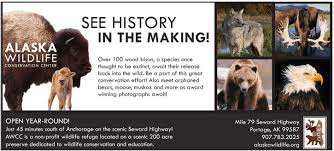 Making our way up the driveway, it was easy to see that this is a pretty popular place with the cruise ship crowd. Navigating our way around the big buses we opted to drive around the park instead of doing the walk.  We parked at our first stop which was billed as the nursery.  The only thing "on display" was a moose who was lying and down didn't look like he was doing to well. It's weird but sometimes I can sense how an animal is feeling and I left that area feeling kind of sad. I'm pretty sure he was probably being rehabilitated. Knowing Alaskans and their passion for wildlife, I am going to assume that they found him injured in the woods and he was being nursed back to health. In any event it was still pretty cool to see one of these guys close up.  I tried to send him some good vibes.  All along the rest of the trip we were hoping we'd see one in the wild but sadly we had no such luck.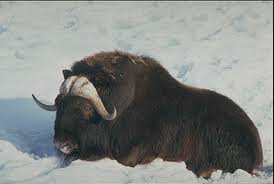 Next up, we took a gander at some Musk Ox. It's hard to describe them but I'll try. They kind of look like a buffalo crossed with a miniature horse but with horns that seem to be "parted" in the middle. Supposedly they are one of the few remaining prehistoric animals that have have been around since the ice age.  Their fur is super soft and warmer than wool and is called Qiviut. You can buy stuff made out of it at a shop in Anchorage, which I am sad to say I missed.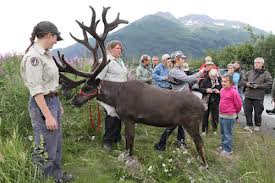 From there we drove on to see a little black bear that was abandoned by his mom, and then a herd of reindeer which are also known as caribou.  As I pondered these guys I could not help thinking of Santa and his sleigh. They are big like elk but with different types of antlers.  They are quite majestic. Caribou are a huge source of food for native Alaskans, in fact I gave it a taste in Barrow Teriyaki style and it was super delicious. Hope I haven't offended any vegetarians out there. Continuing on we also encountered some Lynx and an owl.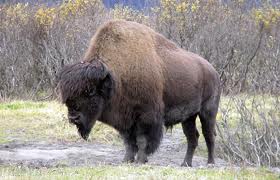 Lastly we drove slowly past a herd of wood buffalo which are a real source of pride and an example of the center's great work. Alaska's wood buffalo were nearly extinct and thanks to the Alaskan Wildlife Conservation Center they are making a comeback.  The center has been caring for a decent size herd and they are nearly ready to released into the wild.
Nature really is center stage in Alaska and watching what goes on here preserving the endangered native species as well as caring for orphaned animals was truly gratifying. If you like animals and are interested in seeing some of the creatures that make Alaska their home, this is a great place to stop for about an hour or so.  Just as a little side note, they've also got a little cafe for anyone in your crew who's famished or needs a snack.  They've also got a pretty awesome gift shop that I got lost in for awhile picking up some really original souvenirs.