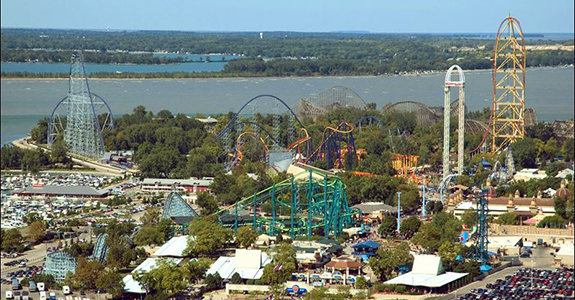 Cedar Point Park This park bills itself as "the best amusement park in the world." I don't know if I'd go that far, but it was a lot of  fun and the kids got their ya-ya's out on the roller coasters and other rides. Cedar Point's true claim to fame, though, is that it's home to some of the tallest, fastest, and longest roller coasters in the world.
There is an aerial tram that goes from one end of the park to the other, so we hopped aboard first to get a bird's eye view of everything to see what would interest the kids.  Let's be honest, Yvonne and I had absolutely no intention of going on any roller coasters.  Those days are long gone.  Surprisingly (and to our relief as worried moms) the kids were not so into the scary ones, which looked just ridiculously fast and steep.  I think I'd have a heart attack upon just getting strapped into one of those things.  Instead the kids opted for the the old time wooden coaster called The Gemini which was only slightly milder.  In my younger days, I might have gone on one of those, but I don't like my brains feeling like scrambled eggs and pulling my stomach out of my tennis shoes anymore.  When the ride was over, the kids came wobbling back, their legs like jelly, slightly green.  They were laughing hysterically imitating each other's faces that were caught on camera as the coaster screamed down the steepest drops.
After recovering it was time to beat the heat on the Thunder Canyon white water rafting ride.  Again, Yvonne and I opted out, but the kids got absolutely soaked which was great on a super hot summer day.  The best was afterward watching the kids all pile into the Family Dryer-a little hut with an enormous warm air blower that that all the kids squished into to get dry.  Later on Yvonne and I accompanied the kids on The Scrambler, one of my personal faves and the Himalaya which is always a good time.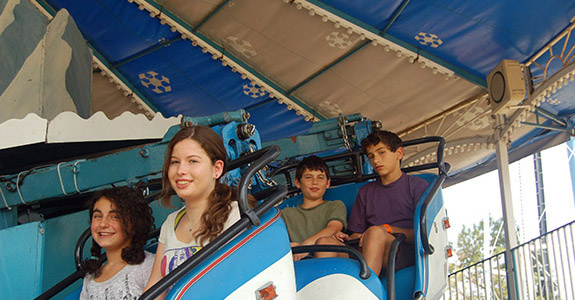 Making our way out of the park we happened upon the  carnival games which were staffed with what seemed like foreign exchange students who didn't have the greatest handle on the English language.  Listening to them try to engage the customers and hawk the games was priceless.  For a few dollars we let everyone have a go at winning a prize.  Thankfully we didn't have to worry about shlepping home a giant stuffed Hello Kitty or some other enormous animal.  But a good time was had by all.
Personally I could live without amusement parks, but it's a trade off of sorts to make sure the kids have a great time too.  Road trips like these can't all be museums and historical stuff.