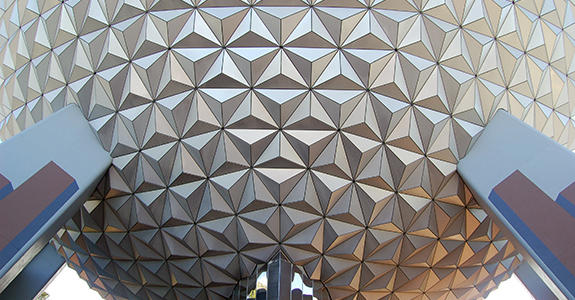 I'll be honest, I am not a huge Disney fan (my apologies to all you Disney devotees) but I thought it would be fun for everyone to have a real Disney experience. We live in Los Angeles, and so Disneyland is not a big thing for us. The kids have gone numerous times, but Orlando is Disneyland x10 so I thought we should all experience it.  What really threw me for a loop in the planning stage of this trip were the prices for the Disney experience.  Most of the Disney resorts were so astronomically expense I just could not understand how an average family could afford it.
I booked us into one of the cheapest Disney themed hotels-some tropical themed resort so we could get the whole experience.  Our room was decked out like a child's bedroom all done in a Where's Nemo theme which my kids thought was just too funny. It was pretty hilarious—Nemo wallpaper, bedspread, sheets, you name it. Turning on the TV there wasn't much to watch except Disney shows, a pitch about Disney timeshares, and even an advertisement for a new Disney development with Disney themed details throughout (I am serious—Mickey Mouse faucets, I kid you not). It was a little scary and we felt as if we'd entered the Disney Zone and our minds were being brainwashed to live the Disney lifestyle.
This was how the washcloths were folded in the room…(???) Weird right?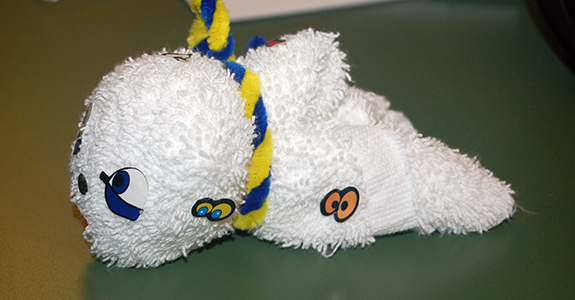 So after a decent night's sleep with Nemo keeping a watchful eye on us, it was time to get breakfast and head out. We headed to the restaurant in the hotel, and I was struck by sticker shock. Unbelievable— talk about price gauging…you want a little plastic box of cantaloupe or strawberries (in the shape of Mickey ears of course), that'll set you back $6. A short stack of Mickey Pancakes? How about $10. $50 dollars for breakfast—and we were still hungry…yikes.After breakfast, we headed to the shuttle bus right outside our hotel (after having to pass through the enormous gift shop, which BTW is the only way in or out of the hotel). There are various busses that head to a variety of Disney parks and other hotels which I'll grant you was very convenient. We opted to explore Epcot as it seemed to be somewhat different and presumably offered a bit of a learning experience, taking you around the world.
Thankfully we got there just as the park opened so whatever rides there were, we could get on them quickly.  We got right on the ride inside this big geometric ball-which was a cool trip through time.  Just to note, as we were leaving the park, the line for that ride was about 1.5 hours long. Epcot is a celebration of countries around the world with exhibits, crafts, and restaurants.  I thought I would make it more fun by doing a tasting tour, trying eggrolls in the Chinese pavilion, fish and chips in the England pavilion, French baguettes and Brie in the French pavilion—you get the idea. It was a very expensive, but fun dining experience. The rides were few and far between and by the time we made it around the park to where they were located, they had monstrous lines to get on. It definitely was a fun experience, but it certainly wasn't the be all end all over the top once in a lifetime.
Taking in the whole Disney experience though made me a little sad.  Wherever I went, I saw loving parents shelling out tons of money that many seemed they could ill afford to give their kids this "magic" experience from rides to food to souvenirs.  At the end of the day though, the magic really is the time that you spend together, kids getting to spend real time with the parents doing something fun. Mickey and Minnie and the gang are totally adorable but experiencing a little magic in your life shouldn't have to break the bank.