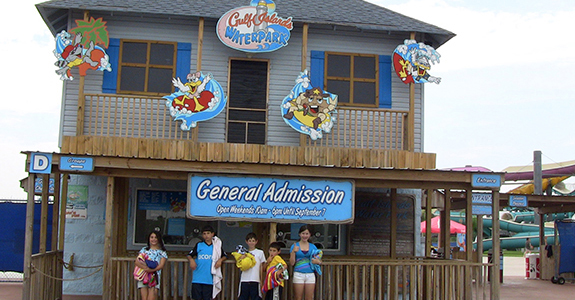 After driving around in the heat and humidity and all the museums and educational stuff we'd done over the last few days, it was time for a kid break, to let them just have fun.  Luckily we found the Gulf Island Water Park and the kids could not be more excited to get into the water and have a great time in the late afternoon.  The park wasn't enormous but it was big enough to offer a really great selection of rides.
The kids hit the water slides on some kind of little inflatable boat thing with 2 or 3 of them going at once together squealing with delight and they twisted and turned in the rushing water.  They also enjoyed a leisurely float down the  lazy river.  I was really tempted to put my bathing suit on and enjoy the activities, but I decided instead to hang with Yvonne  in the shade soaking up our little bit of free time to catch up on adult conversation and just unpack our brains.
If you find yourself in this neck of the woods and your kids could really use a break, this is a super place to stop and lets the kids enjoy themselves.  If they've survived all the museums, hall of fames, presidential libraries and all the rest, the they deserve a couple hours to cool off and have some good old fashioned fun.