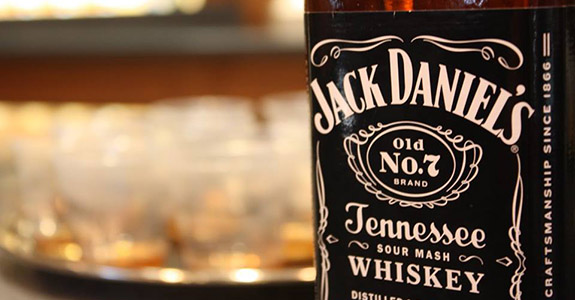 The production of whiskey and Bourbon have a long history in Tennessee and one of the best places to learn about it is to Go to the Jack Daniels Distillery which offers factory tours.  We arrived at the visitor center and got tickets for our tour and while waiting, walked around and saw many displays that explained the whiskey making process, and what make Jack Daniels brand so unique.  When it was time to leave on our tour, we met our guide who looked just like an old time moonshiner with his overalls on. I am not sure if thats the way he really dressed or if it was all for effect, but he was a pretty jovial guy, and we had a lot of fun.   First we followed our guide to Jack Daniel's original office space and learned about his personal history.  Jack had been making moonshine since he was 13 years old and became a master distiller at a very young age founding the company that bears his name.  Today Jack Daniels is the #1 selling brand of American whiskey in the world.  Inside the offices which resemble a small house, we learned that Jack died of an infection which started in his toe after he kicked a safe in anger as he'd forgotten the combination.  Since Jack had no children and never married, the business was left to his nephew Lem who had done the bookkeeping.
After learning about Jack, we watched how whiskey is made. American whiskey is made from what's known as sour mash which consists of corn, a little bit of rye, and some barley malt.  Mixed with the local spring water that flows on the property (known as "The Hollow") and yeast, the mixture ferments until it's ready to be filtered.  We saw the large vats bubbling as they were fermenting.  Our guide asked Yvonne to take a whiff  and it burned her nostrils it was so strong.  We watched how they burn sugar maple wood to make their own charcoal through which the whiskey is filtered which give it it's unique taste.  Another thing that makes Jack Daniels unique is that they make their own barrels in which the whiskey is aged. They are stored in huge warehouses all over the county and are turned on a regular basis. Lastly we watched the bottling process and toured a special room that honors those folks and companies who have bought their own barrel whose contents are specially bottled and labeled. By the end of the tour, we were  just dying to take a sip and sample it…but we were out of luck. Lynchburg is a dry county—meaning no alcohol can be consumed here. Ironic right?  Instead we headed to the the small town of Lynchburg which hosts a ton of charming shops where you can buy all kinds of Jack Daniels products, everything except the liquor.  We bought some gifts to take home like BBQ sauce and shot glasses and had it all shipped home.
I highly recommend this tour even for kids.  It's a great learning opportunity to learn about a the history of whiskey, prohibition, and what goes into making one of America's foremost brands of alcohol.  It's definitely a DO NOT MISS!!!