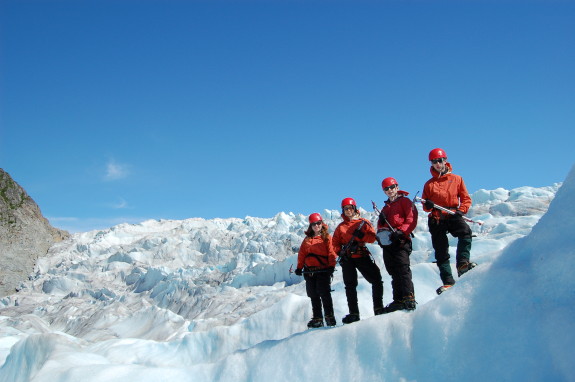 There are few things in this life that can rival hiking on a glacier, I would even venture to say it was a life changing experience.  And if that statement needed any validation, my jaded teenagers excitedly declared it "totally sick".  Is there a higher compliment from a tougher audience? I think not. I decided early on this was a must do on our Alaskan road trip and it totally exceeded our expectations.  The folks we trusted to guide us on this extreme adventure was Northstar Trekking, and if you are considering this thrill of a lifetime, I cannot recommend them high enough.  They are simply the best!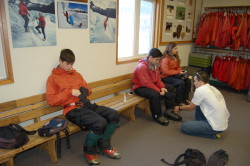 We were picked up at our hotel by their shuttle and driven to Juneau airport to suit up before helicoptering up to the glacier. We were instructed to dress warm and in layers and we were glad we heeded their advice-as it was pretty cold and surprisingly windy (glaciers generate their own wind due to the changes in temperature).  Putting on our gear was quite a process but our guides helped us and made sure everything fit perfectly.  We were given special pants to wear over our own and a special jacket to over our sweaters as well. Next came the boots, gaiters, gloves, harness and little fanny pack loaded with a water bottle and a granola bar.  One thing I can't stress enough is make sure you bring sunglasses.  It was blindingly bright up on the glacier.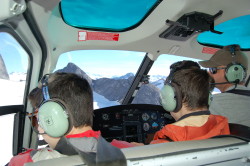 Once we had all our gear on we were given a thorough safety briefing about the helicopter before walking out to the tarmac, meeting our pilot and our glacier hiking guide Jono. We climbed in put on our headphones equipped with mics and once the doors were shut the engines started to whir and the propellers started to turn. I can't even describe the thrilling sensation of rising and floating up in the helicopter like a bird watching the Alaskan landscape spread out beneath us. By the way, Northstar's fleet of helicopters are the Ferrari's of the sky-gorgeous and meticulously maintained.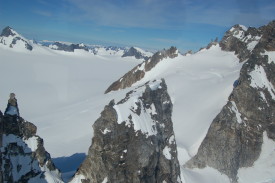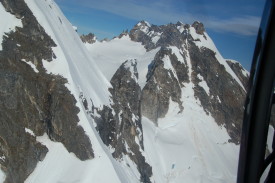 The first half of our adventure was a aerial tour of the mountain range and the top of the glacier.  We flew close to shear peaks so awesome and breathtaking.  We saw the beginning of the glacier at the very top, a swath of white snow with not a footstep in site as far as the eye could see.  As tons of snow falls on the top of the mountain, it gets compressed under it's own weight turning to ice and makes it's way slowly down the mountain carving the underlying rock as it makes it's way down.  As we flew overhead it essentially looked like an ice highway.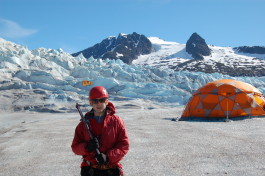 Soon we reached our landing area marked by a bright orange igloo type tent.  Our pilot landed dropping us off and took off vowing to return.  Jono fitted each of us with a helmet, crampons (a sort of metal cleat attachment that straps to your boot) and a pick axe. He very patiently instructed us on the finer points of ice climbing, using our axe and crampons to dig in. It was tough but soon enough we had it down enough to start hiking and off we went.  We found out that Jono was a geologist and studying glaciers was his life's work.
We made our way up, around and over various formations until we reached a small waterfall.  Jono encouraged us to take a drink. Kneeling down we sipped the purest and freshest water we'd ever tasted in our whole lives-water that was 200 years old.  Drinking it I felt as if a life force was entering my body. We filled our water bottles and continued on our hike.  We learned that glaciers move (about a foot a day) and the chunky shapes you see are formed as the glacial ice moves over rocks.  Think of white water in a river as it flows over rocks, it is basically the same thing except on a glacier the water is solid. Jono explained how some of the formations happen and explained the dangers of areas like a crevasse.  He even let us create our own waterfall by using our axes to redirect a small stream of water.
2 hours went by much too quickly and soon it was time to head back to our pick up point.  Right on cue our helicopter arrived and we loaded up and lifted up.  As we floated up over the glacier I marveled at it's awesome beauty as it flowed down to the lake.  I thought about what an amazing experience we were blessed to have and was content in feeling that we were truly living life knowing I had seized an opportunity to do something that changed us forever.   It's so cliche' but life really is much too short and though this activity was incredibly expensive, it was worth every penny.  I can honestly say I was truly changed-humbled and awed  by nature's awesome power. Whatever it takes, if you get the opportunity don't miss this once in a lifetime experience.