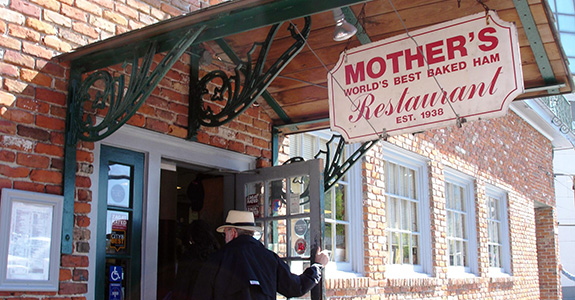 When we were in New Orleans we met up with some good friends and local residents Alan and Diane and their little boy Eli.  We asked them where we could get a good breakfast and they told us to head right over to Mother's-home of the world's best baked ham (that's what's on their sign outside). We don't eat ham, but we do like a good breakfast of pancakes, eggs, and all the fixins and Mother's did not disappoint.
There are no reservations here, you just put your name down and wait till a table opens up.  We were a group of 7 and thankfully we didn't have to wait too long before we were seated at a huge round banquet table.  This place is quintessential New Orleans and we had to struggle a bit to understand our waitress with her lovely southern accent. Although it did take a bit for our food to arrive after we placed our order, what arrived was simply delicious.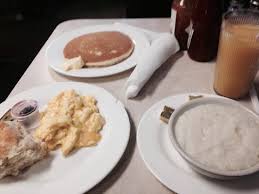 Pancakes were fluffy perfection. Biscuits were perfectly dense and satisfying. Eggs were cooked just the way we liked them. And the grits, if your in New Orleans, you've just got to have the grits! No one is in a rush here and neither were we as we sat there savoring every forkful.  We love people watching and it wasn't hard to figure out who the regulars were here.  Mother's clearly has a loyal and devoted following (they've been open since 1938-they must be doing something right!), and now can count us as fans as well. If you find yourself in The Big Easy with a hankering for an authentic southern breakfast experience then do check out Mother's, it's a New Orleans original.