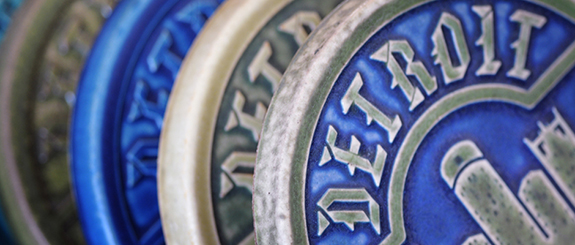 Pewabic Pottery is a neat little stop if your group enjoys arts and crafts.  Part art gallery, part store, part studio and part museum, this is a great place to learn about the art of pottery making and how the city of Detroit inspired some of Pewabic's historical work.  This studio has been working continuously since 1903 and is listed as a National Historic Landmark.
Walking around the gallery, we really enjoyed looking around at the artwork done by the students who come to  learn the craft here at the studio.  The shop is also a wonderful place to pick up a truly unique and original souvenir.
As a parent, this stop was memorable for me and not in the best of ways.  My 13yr. old daughter, Lilia, in the throes of puberty, decided to have an absolute and complete meltdown, embarrassing herself and me in the process.  She screamed and yelled and had everyone turning around curious to see what the commotion was all about.  I got some looks of scorn for being unable to control my child, and some looks of pity from other mom's who knew exactly how I was feeling....powerless and mortified.   Sometimes you just have to remain calm until the raging tide of hormones subsides-I walked her outside and let her have her screaming fit holding back my own tears. I remember a kindly security guard who came over and gave me some wonderful words of encouragement making sure I understood that this was temporary and no reflection about what my daughter really felt about me.  He definitely gave me clarity and helped me understand what was happening.
Earlier inside the shop  I had bought a little tile piece shaped like a turtle.  Every time I look at it, I am reminded of that moment where I just wanted to curl up and hide in my own shell…Kids.