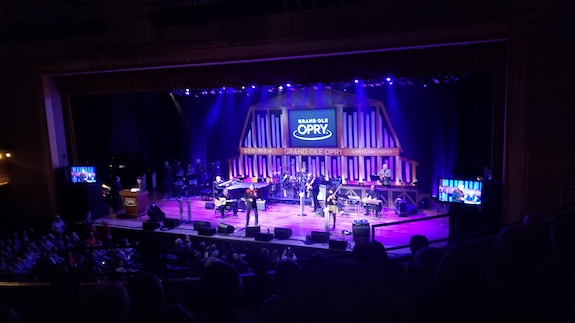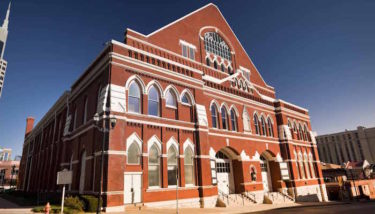 You don't have to be a huge fan of country music to appreciate why Nashville is also known as Music city. Singers and songwriters gravitate here to seek fame and fortune and one of the most iconic places to witness it live is the Grand Ole Opry which depending on what time of year you visit will either be at the Grand Ole Opry House across from Gaylord Opryland Hotel or in Downtown Nashville at the Ryman Auditorium. In fact, I would dare to say, you simply cannot explore Nashville without a visit to the to the Grand Ole Opry. It's THAT big a deal.
I had no idea that the Opry itself started out as a radio show and still true to it's roots,  broadcast live the same way with breaks in between performances for the announcer man to read a message from the evening's sponsor. We caught the show at the Ryman Auditorium and I must say, the acoustics in the old wood building were awesome. They just don't build 'em like they used to, that's for sure. The walls reverberated with the historic performances of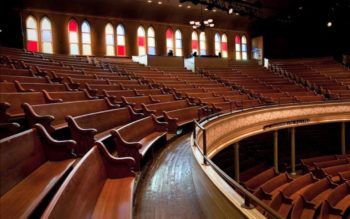 legends from the past like Johnny Cash, Dolly Parton, Patsy Cline and Hank Williams as well as contemporary country stars like Carrie Underwood and Garth Brooks just to name a few. You could just feel it sitting in the pew type seating. In fact, there was a wholesome old school charm about the whole experience sitting in the "The Mother Church of Country Music"-as the host referred to it, which I found very refreshing in today's modern fast paced world.
The show is made up of several short performances unless someone special is headlining. When it's gets lively, folks get to hooting and hollering, and the place went wild at the end when the Opry Square Dancers came out and did their thing. I was clapping and foot stomping right along with everyone else, honestly, it was irresistible!
A word to the wise, if country music isn't your thing, it's still worth checking out to see what all the fuss is about and to appreciate what's in the beating heart of the city of Nashville. I'm not a huge fan of country, but I loved it. In any event, enjoy it for all it's worth and then head down to Broadway for some rockin' honky tonk to set your boots a tappin.