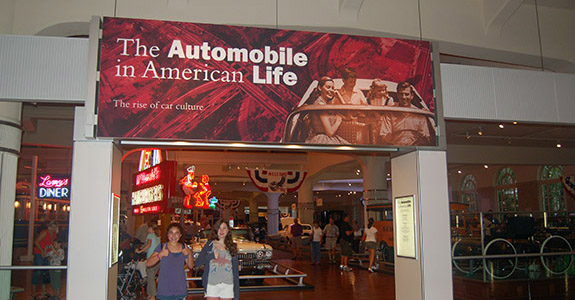 The Henry Ford Museum is an enormous museum which covers the history of transportation and car culture. Inside we traced the evolution of the automobile and saw some of Henry Ford's earliest attempts at the motorcar.  It was crazy to look at these amazing contraptions and realize these were the visionary inventions that led to the cars we drive today. Looking at the "Quadricycle" the kids and I discussed what stayed the same-like the tires, steering, seats and how have things changed-body style, tire size and shape, more sophisticated motor etc.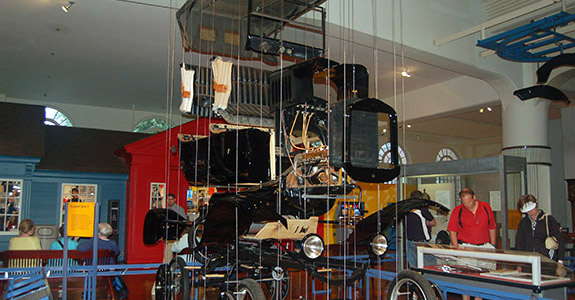 One of the things Henry Ford is most famous for is for creating the assembly line, which changed production not only for cars but for many factories making various types of items.  In order to understand how an assembly line works, there is an interactive display.  All the kids lined up on either side of the line and were given specific parts that they had to add to construct a small toy model T.  One kid had the chassis, one kid had the tires, one had the steering.  So as the cars came down the motorized line, each kid had to work quickly to add their piece on until the finished car came off the line.  It reminded me a little of the Lucy and Ethel sketch where they have to box the candy coming off the conveyor belt.  It was quite hilarious watching them trying to work together as the belt started to speed up.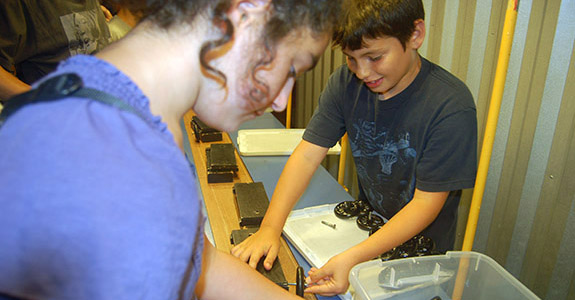 What was really thought provoking was realizing how much the automobile has influenced modern culture.  Motels, diners, fast food drive-thrus,parking meters, gas stations-all these things came about  thanks to Henry Ford and his assembly line. As a result, cars could be made affordable enough so average folks could afford to have one and once they did, they headed out on the road, to seek and discover. It's truly a great American story.
There were lots of historic vehicles to see as well.  How about the first ever school bus, built in 1927 or the limousine that was carrying President Ronald Reagan when he was shot.  From race cars to VW campers, from stagecoaches to sedans of the future, this wonderful museum covers it all Plan to spend at least a couple of hours here, as there is a lot to see, and as always—don't forget about the gift shop. Oh, and by the way, they have a phenomenal cafeteria with a huge selection of delicious entree's and treats.