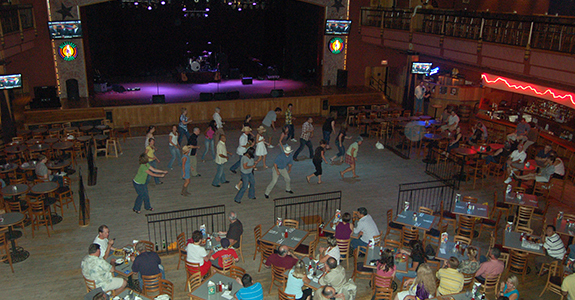 Often times traveling with kids can present a challenge when you are searching for some fun activity in the evening especially when you're in a city that has a lively music scene for which it's famous for.   We were thrilled to discover that the Wild Horse Saloon was a family friendly place so we put on our cowboy boots and headed over after dinner. Driving past all the neon signs and hearing the live music on the streets got my toes tapping and my heart skipping so excited to check out the Nashville scene.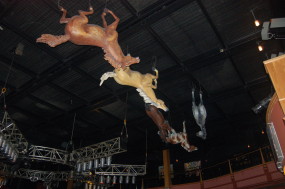 This place was exactly what we wanted to experience when it comes to Nashville night life -live music, line dancing, games, and other entertainment and it was fantastic fun. How can you be in Nashville and not do some line dancing? There is a lesson for beginners and then feel free to jump in and do your thang! That's what we did!  Yvonne and I headed onto the floor and just followed along with everyone else. I'll admit, I have rhythm but sometimes it's hard to follow a bunch of new steps so quickly.  I just sort of winged it and had a great time.   I tried in vain to get the kids to try it, but they were too embarrassed.  Seriously, you're in a town in a club where no one knows who you are-what's to be embarrassed about-get out there and have a good time I say...Teenagers!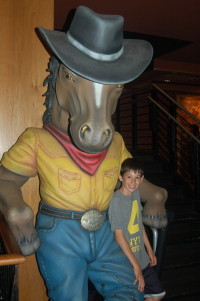 The live band played some pumping country music and the floor got crowded quickly.  Mesmerized,  we watched the "pros" do their thing on the dance floor.  It was an absolute blast!  Afterward, we walked around the club and noticed horse "sculptures" everywhere we looked, there's even a "herd" of them running on the ceiling.  I have to admit, it was hard reconciling being in a club, with a bar and a band, and my kids tagging along wherever I went but don't get me wrong, it was a really good time.  Just weird.
The kids started to moan after tiring of watching Yvonne and I do the Tush Push and Electric Slide so we made our way upstairs where there were pool tables and a host of other bar type game that the kids could play.  It reminded me a lot of Billy Bob's in Texas, but it definitely wasn't near the size-Billy Bob's is the biggest Honky Tonk in Texas and that should just tell you right there it's the biggest and the baddest of them all- that nothing can compare.  The Wild Horse Saloon was definitely a good time and a super fun night on the town, DO NOT MISS it if you want to experience the country music scene and flavor of Nashville.