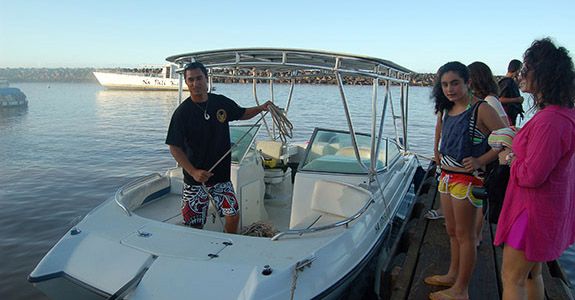 There are many ways to see the Napali Coast, which is inaccessible by land. You can sail on a catamaran with about 30-50 folks, or you can go on a motorized inflatable zodiac raft with about 12 folks on a super bumpy ride.  Any way you slice it, it's going to be expensive (about $150 per adult and $100 per kid) and an activity that is going to take some time (4 hours at the minimum).   I don't know what possessed me, but I figured if I was going to spend the money and time, for just a bit more, I might as well go all out and have the freedom to go and do whatever we wanted in the time we had.  I decided to charter a boat for half the day and made an excellent choice with Captain Makai of Na Pali Makai ,who was simply amazing.
We met him at the Kikiaola Harbor and loaded up with our towels and sunscreen, he provided the rest which included lunch, snorkel and fishing gear.  After getting a quick lesson in life jacket safety, we set off for the most dramatic and breathtaking side of the island.  We sailed out for about 20 minutes until we stopped for a bit to check out a pod of dolphin that was swimming pretty close by. The water was crystal blue and the shoreline was just as spectacular as we stopped to check out the dolphin we noticed a sea turtle or "honu" as they are called in Hawaiian coming to the surface before diving back down again.  Venturing further along the magnificent coastline we stopped for a swim and some snorkeling.  We donned our masks and snorkels and jumped in.  The water was just the perfect temperature-warm yet refreshing.  Peering into the deep blue we did see some fish and sea creatures.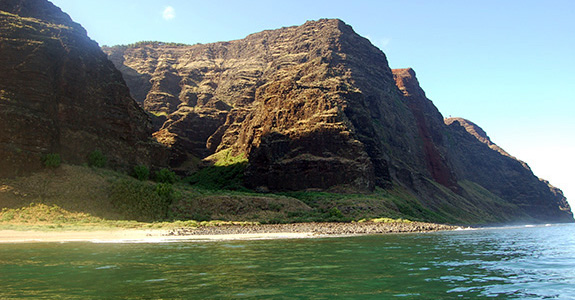 After snorkeling Makai showed the boys how to dive off the roof of his boat before we loaded up again and headed further north to a sea cave called "The Open Ceiling Cave".  We motored into a very narrow opening in the jagged cliff rocks into a watery roundabout surrounded by cliff walls and yet open to the sky.  I am sure it was no simple feat for Captain Makai to navigate around the central rock amidst the rocking waves but he did it perfectly.  The second cave ended at a waterfall that flowed all the way from the top of the cliffs to the open water.  As we passed under, Makai maneuvered the boat so the kids all got soaked.  What a once in a lifetime treat to be rained on by a natural waterfall that is inaccessible by land.
The views all along the way were simply majestic and almost surreal. Gorgeous jagged green cliffs seemed to rise right out of the water with occasional sandy beaches without any footprints completely desolate and untouched. I tried to imagine the Polynesian people who ventured here in their canoes from Tahiti and other islands, seeing what they must have seen upon their discovery of this beautiful place.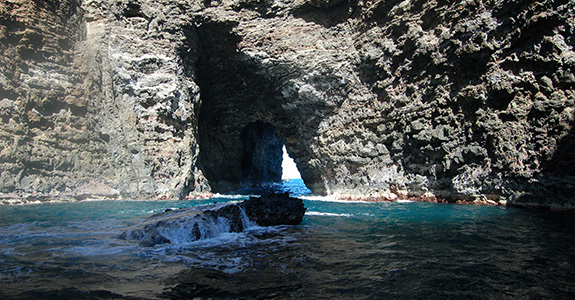 On our way back, the boys asked Makai if they could fish, so he rigged up to rods and reels.  He radioed a buddy who told him there was a school of tuna nearby.  Looking in the distance, Makai showed us where they were as you could see lots of birds at the surface which were attracted to the school of small fish that the tuna were feasting on.  With the rods baited up, Makai put the boat in gear and headed straight toward the tuna, trolling around until we hooked one.  It didn't take much effort before Makai had one in the boat.  It wasn't terribly big, and was called an Amberjack which is a type of tuna but it was still a decent size.  Wanting to catch more for his dinner, Makai headed back out.  As we headed further, the waves on the ocean got stronger and were really rocking the boat, scaring us all more than just a little.  As Makai hooked a second fish, he ordered Jacob to take the wheel.  The waves kept coming higher and the kids started to really panic as the boat bobbed like a small toy in the waves.  I told Makai that we'd had our fill of fishing and that we wanted to go because everyone was flipping out.  I think he was mildly annoyed as he'd wanted to catch more fish, but he complied and about 20 minutes later we were back in the harbor.
Everyone had the time of their lives and it was one boat ride we'll remember forever. If you can afford to do it, I highly recommend it and if you go with Na Pali Makai I assure you you'll have the most amazing time.