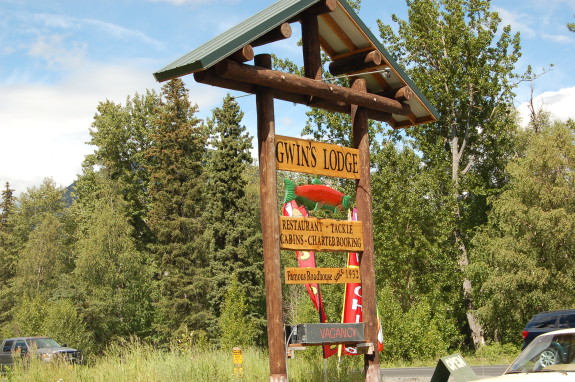 Sometimes you're starving and you pick out a place and hope for the best. Every once it a while (you breathe a sigh of relief as) you are happily blown away when it exceeds your expectations and everyone leaves happy and satisfied. Looking for a place to eat along the Sterling Highway, the kids and I stumbled across Gwin's lodge and decided to give it a try and man are we glad we did.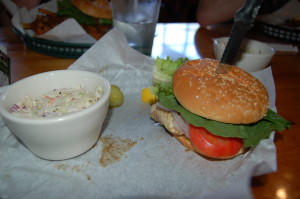 Looking at the menu we all knew that fish was the order of the day, heck we were literally right off the Kenai river so anything was going to be super fresh. The kids and I opted for the fish sandwich made with fresh Halibut (no doubt caught off the waters in nearby Homer-the Halibut capital of the world) which was fantastic but I have no doubt that everything on the menu is great-want to know why? Because I could just tell watching the chef that he loves to cook and cares about what he's serving to the customers. I love to cook myself and I can tell you, if you aren't cooking with love, it won't be any good no matter what it is. I watched him in the open kitchen and I could spot his attention to detail as he made a customers' turkey sandwich-toasting the bread just right, picking out a nice piece of lettuce, shmearing just the right amount of mayo. That's the difference you can taste because it's made with love-the secret ingredient to all good cooking. The menu and the restaurant are also super family friendly.
Gwin's Lodge is an all in one destination if you'll be staying in the area.  Their cabins look awesome. We didn't stay there so I don't know what their like but you can check them out of their website by clicking here.  They also have a little tackle shop if you need something-like say a fishing license, and a really cool gift shop with some fantastic hoodies and T-shirts that might make a nice gift for someone back home.  Joel got an awesome t-shirt with a picture of a bear about to eat a salmon with the caption "Gwin's sushi bar"-I guess it doesn't get any fresher than that! Totally cool.