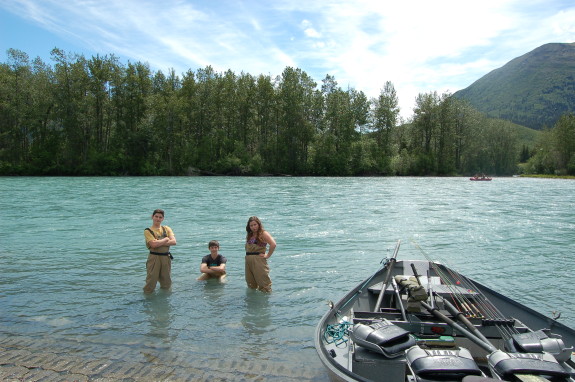 Fly fishing for salmon on the Kenai river was one of the highlights of our entire trip. The only way I can describe being out on the river, at one with nature, is complete nirvana! It was not only a fun experience, but I felt as if my spiritual batteries had been recharged. It was an extremely special activity that my kids and I will never forget and one that I can't recommend highly enough if you get the chance to do it.
After doing extensive research into the many guide operations on the river, we chose Kenai River Fly Fishing to take us out for a half day trip.  We were there during sockeye season but it seems that the salmon had run a week or two earlier so the fishing was a little hit or miss- but the overall experience was a 10+. We were given instruction to meet our guide TJ at the boat landing and sure enough we found him with the boat and waist high waders and boots for all of us to wear. My kids were so excited to put the gear on they could hardly contain themselves!  Instantly everyone loved TJ's fun personality and I knew right away that we were in for a good time. We put our waders on over our clothes and instantly started vogueing and snapping pictures. The kids ran into the water to test out their new duds, and yep they were totally waterproof. So fun!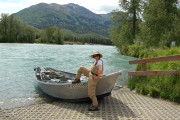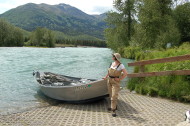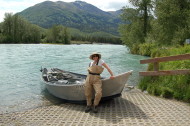 TJ got the boat into the water, loaded up, gave some ground rules and made sure we had our life jackets before we set sail on the gorgeous turquoise blue Kenai River.  As we floated down along the banks we saw tons of fishermen (and fisherwomen) casting away.  They were definitely catching fish.  As we continued to float down the river to get to the fish before everyone else did we noticed salmon carcasses floating down stream.  Apparently when the fish get caught they gut and filet them right on the banks of the river. TJ explained this was important to keep the bears further down the river.  The carcasses ended up by some rocks not too far from where we stopped to fish.
TJ showed us the fly fishing technique using both hands to manage the line. Casting it out and reeling it in back and forth is the best way to catch fish.  TJ explained that what happens is the fish don't really look for the fly (remember, they are swimming upstream to spawn), but as you reel the line in, if the fish are running, chances are your hook will snag the fish just with the motion itself.  As we were fishing, all felt right with the world. We saw eagles soaring overhead and then a bear came out of the woods to eat the remains of some of the fish that had made it's way downstream.  It was just incredible.  I felt so humbled by the magnificent scene before me and so grateful to be part of it.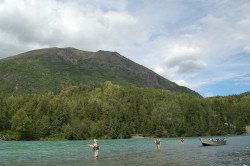 Sadly we didn't catch anything we could cook and eat but that was totally ok.  Isaac hooked a salmon that had a huge bite taken out of it so we sent the zombie fish back into the water and tried for another hour or so with no luck.  TJ then floated us down the river to catch some trout.  We were getting bites but it was a little challenging hooking them.  Isaac caught two more small ones but they were too tiny to eat so we sent them back on their way as well.  At the end of the day it wasn't about what we caught (or didn't catch- and I know TJ tried his best but luck wasn't with us that day) it was about the whole experience which in my book was priceless.  Speaking of prices, hiring a guide can run about $150-175 a person for a half day trip and let me just tell you, it was worth every penny.
We highly recommend Kenai River Fly Fishing (click here for their website) and especially TJ (click here for his bio).  So if you are considering a trip and fishing is on your list, don't miss this legendary spot.  You will be richly rewarded whether you catch something or leave empty handed.