As you have already figured out by now, Kentucky is horse country  and one of the best places to learn all about horses is the Kentucky Horse Park. There was so much to see and learn here about these magnificent animals.  First stop was the museum to learn about the history of horses in cultures around the world, from Europe to Asia and the Middle East and the US we learned how horses were used and cared for. The girls and I loved looking at the ornate saddles from around the world and the different ways to braid a horses mane.
We also learned about the different breeds like Arabians, Clydesdales.and Appaloosas just to name a few and all about their distinguishing characteristics that make them unique and different much like how people look different from different places around the world.  We saw lots of exhibits on racing, and other ways horses were used, like pulling farm equipment and stagecoaches, among other things.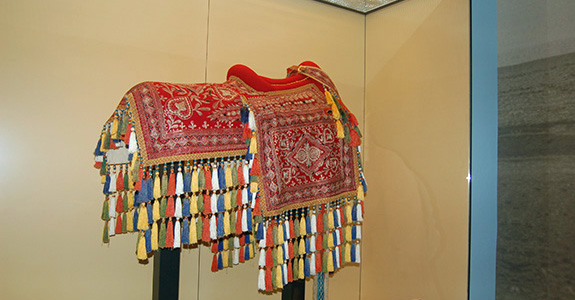 Afterward, we toured the paddocks and came face to face with some real former racehorses who are now retired and make the Kentucky Horse Park their home. They were sweet as sugar and we loved getting up close. At certain times, handlers take the horses out for the visitors to see.  When we were there, we got to "visit" with Cigar—I was blown away because I'd heard of Cigar, he was quite a famous thoroughbred racehorse who'd won 16 races in a row and was inducted into the National Museum of Racing and Hall of Fame. This is a picture of him here.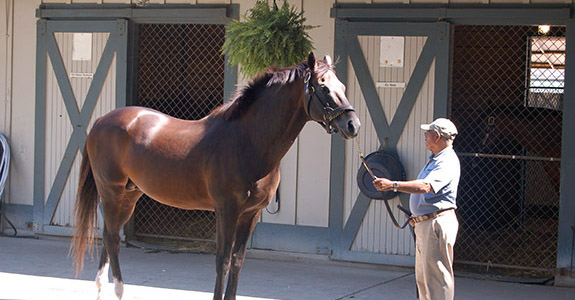 Afterward my crew was just itching to go riding and conveniently enough, the horse park offers a trail ride around the pastures.  We all saddled up on these poor trail worn horses.  In all honesty, these were real working horses that didn't look anything like Cigar or the other racehorses we'd had the pleasure of meeting.  It was still fun though even though it was way too slow for my taste-the poor horses seemed really lethergic.  Riding horses always takes me back to when I was 6 and my parents took me to the pony rides which was my absolute favorite thing to do in the whole world. Every Sunday that we got to go to the pony rides, I would get so excited I could barely contain myself.   I always rode in the fastest lane and my favorite horse was Poncho who galloped along with me holding on to dear life but loving every minute of it.  I would have loved to have had the opportunity to pursue riding but it was apparent even to a 6 yr. old that it's a very expensive hobby and one my parents could not afford.  Perhaps if I'd grown up in Kentucky my life would have been much different.  In any event it was a truly educational and fun experience that none of us will ever forget.  If you are seeking out the spirit of Kentucky then the Kentucky Horse Park, is a DO NOT MISS!!