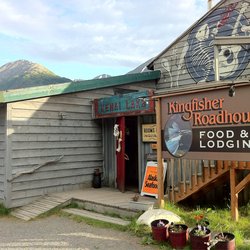 After an afternoon fly fishing on the Kenai river we asked our guide TJ where was the best place to eat in town. He rattled off a few names that he said were really good, but when he mentioned the Kingfisher Roadhouse his eyes lit up and waxed poetic about a burger that sounded off the charts fantastic. Well, as soon and we loaded up, we made a bee line straightaway.  At night this place apparently gets absolutely packed so if you're staying in the area, best to make some reservations.  Lucky for us since we were eating pretty early, we were seated right away.
The decor is country roadhouse with a little bit of hippie charm thrown in for good measure. In every window you'll find a pretty stained glass ornament, and if one strikes your fancy, you can buy it.  We sat an awesome table that was cut from a crazy tree trunk with a gnarled shape, another nod to mother nature in the last frontier.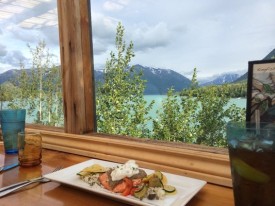 The menu has quite a few favorites and some adventurous entrees.  The cuisine here definitely leans to the gourmet side keeping it as local as possible. The burger might have carmelized onions and artisan cheese. You might find a curry dish, and some interesting vegetarian items.  I opted for the sockeye salmon which I have no doubt was probably swimming in the Kenai river just a few hours earlier. It was magnificent. There is just nothing like incredibly fresh fish. The kids had the burgers which were quite juicy and delicious.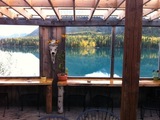 The Kingfisher roadhouse also has a lively bar scene, live music, and a ping pong table.  I suspect this place really rocks at night and it's a favorite hang out with the locals.  There is also an outdoor deck with a pretty amazing view. I will say that the meal was on the pricey side and while is was quite delicious, I suspect if your traveling with a family you may want to try something a little more family friendly like Gwinn's lodge down the road. But if you're game for a culinary adventure, you sure won't be disappointed.