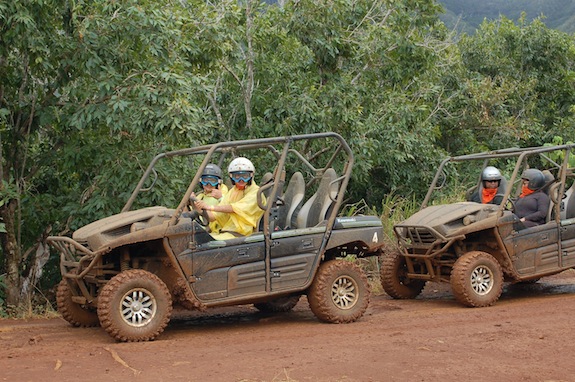 Looking for something to do on rainy day on Kauai (which by the way is home to the 2nd wettest spot on earth) we happened upon Kipu Adventures, an ATV Adventure tour that ended up being the most fun and memorable activity on our entire visit. Sometimes the best things are discovered when you least expect it, and that's why you can never let bad weather ruin your good time. When I called up and spoke with Leah Michaels, their guest services manager, she said it was a "perfect" activity for a rainy day, and boy was she right! (FYI we did this activity in April 2016 but posted it at an earlier date so it falls in line alphabetically)
Located on a storied cattle ranch which once belonged to Hawaiian royalty, Kipu Adventures took us on an adventure we won't soon forget. The first thing to note, is that you will get diry...very very dirty....and it couldn't be more fun.  The dirt on Kauai is red and will stain clothing so it's best to wear something you don't mind getting ruined. Since we hadn't planed on this activity and didn't have throw-away clothes with us, we stopped at Walmart on the way and picked up some $5 sweatshirts, $8 water shoes and some very inexpensive rain ponchos.
We met our awesome guides Kyle and Giggles who got us suited up with helmets and goggles. From there we got a lesson on driving the ATVs (you must be 18 to drive much to the disappointment of 16yr. old and licensed driver Joel) and then followed our guides around a little training course. Once ready, we headed out onto the trail through a magnificent cattle ranch bordered by majestic mountains that served as locations for Jurassic Park and Indiana Jones movies. It was visually stunning.
After our first stop, the terrain became very bumpy like moguls in the snow. Needless to say this necessitated a demo and safety talk by our guides as to how to handle the ATV's over the large holes and extreme curves without tipping over. Couple that with some large rain puddles and tons of mud, and it's no mystery as how we ended up looking like this....Isaac and Joel shared an ATV and reveled in splashing through every puddle. Not all the drivers in our group felt confident enough to hit the gas which was a little frustrating but our guides rearranged the order at each stop to avoid slowing everyone down.
Our guides shared some history as we took in the jaw dropping vistas. Halfway through they also provided water, trail mix, and banana bread that my boys are still talking about. One stop took us to the banks of a river with a rope swing that was used in and Indiana Jones adventure.  Isaac was the only one game enough in our family to give it a go.  On warmer days, you can let go of the rope and go for a swim.
For me the sign of a truly enjoyable excursion is when you don't want it to end. It's so hard to believe that we embarked on a 3 hour adventure because it seemed to be over way too soon. We hosed off and threw away our ponchos and headed to our car, adrenaline flowing wishing we could have done it all over again. If you get caught in bad weather or even it's a gorgeous day out, make sure you check out Kipu Ranch ATV Adventures, guaranteed some of the most fun you'll have on the island of Kauai.  It's a definite Do Not Miss!!!!