There are so many wonderfully unique sea creatures that inhabit the waters surrounding the Hawaiian Islands so after a leisurely morning at the beach, we headed to the  The Maui Ocean Center to get a close up view and learn more about them.  Unlike some of those big overdone Aquariums in major cities that all seem to try and wow and outdo each other, we loved that this place because it was so low key and unpretentious
As we entered, I noticed this wonderful sign  and I loved what it said.  "Let's all travel together like water flowing in one direction".  I only wish I could impart that message to my kids, but alas, it seemed it fell on deaf ears…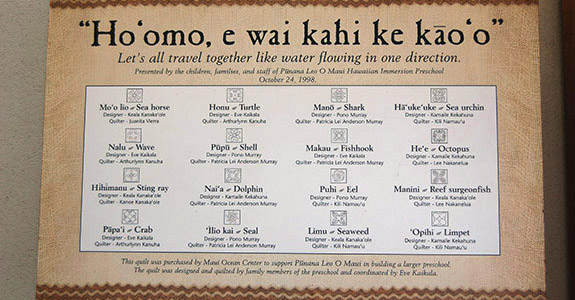 We enjoyed looking at the displays, marveling at some amazing sea horses, jellyfish, and a host of other colorful and quite unusual fish.  We saw an enormous tank that is supposed to show you what you'll find right off the shore.  There were all sorts of colorful fish, rays, sharks even some flat fish that were almost impossible to see as they lay in the sand.  There were also monk seals and even sea turtles, which we'd seen up close and personal when we did our outrigger canoeing.  Make sure you also get to experience the touch tank which everyone in our group loved.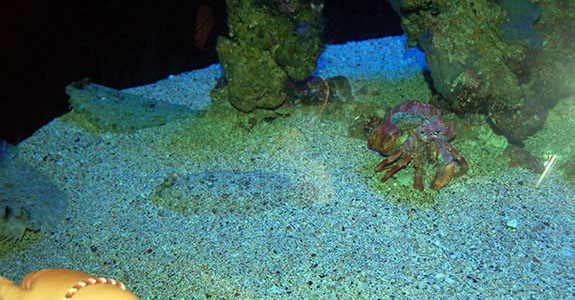 One exhibit that I found the most fascinating and relevant to our trip was titled Hawaiians and the Sea.  We learned that the ancient Hawaiians were expert navigators using the stars and traveled to remote islands in the handmade canoes.  The Hawaiians were also great fisherman who designed and built aquaculture systems that provided food without depleting the islands natural resources.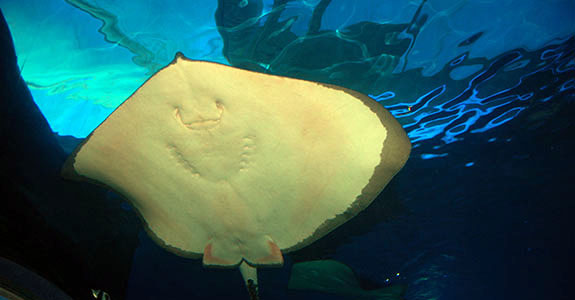 What I always find truly ironic is how through history white/european culture believed that the native peoples where less advanced savages and yet, these ancient peoples had a much more profound and respectful relationship with nature.  Our "advanced" society would be well advised to learn and adopt their ways, but that would require us to admit our humility and bow before nature which sadly seems like an impossible task for large multinational companies and global billionaires who have way too much control.  Ok, I'll stop now and save it for one of my A View From the Road Series...