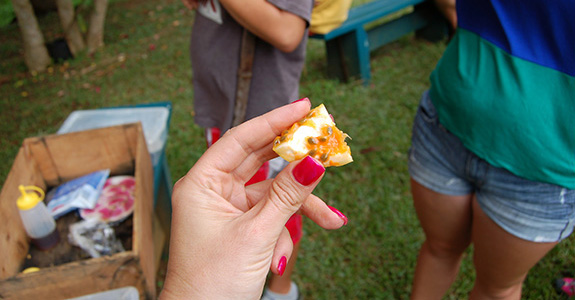 My absolute favorite activity on our entire trip to Hawaii was a visit to The Steelgrass Farm which is a local organic farm on Kauai operated by the Lydgate family.   They grow many unique items here on 8 beautiful acres,  but specialize in growing the cacao tree (which is where chocolate comes from) and offer tasting tours to teach you about sustainable farming, the amazing produce grown on Kauai, and all about chocolate.  Hawaii by the way, is the only state where the cacao plant can grow since it requires a warm tropical climate.  What could be better than a chocolate tasting tour-a chocolate tasting tour on Kauai which is nothing short of paradise.  We arrived at 9am which was a perfect time to tour the fields before it got too hot.   This activity was pricey at $60 per adult, however, kids 12 and under are free, and in the end I felt it was truly worth it.  We learned so much about the food we eat and where it comes from, and the experience was truly unforgettable.

First, we toured the farm with our flip-flop wearing, super tan tour guide who was just lovely.   As we found out quickly this is a tasting tour and we started by making our own limeade by squeezing tahitian limes onto sugar cane sticks and sucking on them.  Sweet, sour and utterly delicious.   As we walked through the fields we saw and sampled all kinds of tropical fruit like star fruit and tasted something called Dragon's Eye which is related to a lychee. We saw wild vanilla beans growing on their stalks which none of us had ever seen before.  The kids and I tasted passion fruit for the first time and we were smitten-it's a combination of sweet and sour that was just irresistible. The tour gave us an opportunity to taste many different things some we'd heard of and some we hadn't, but each taste was a new adventure to engage the senses.  I just loved comparing our impressions hearing what my kids liked and disliked and why.  Another opportunity to get to know each other by sharing a new experience.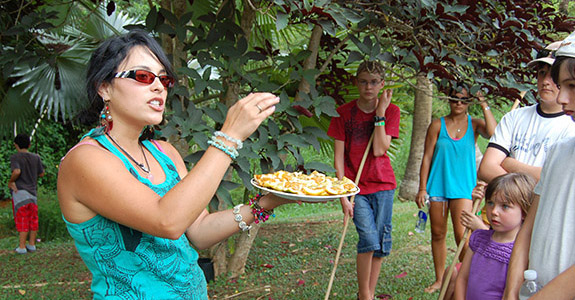 One of the most memorable tasting experiences for me by far was the palm blossom honey.  There is a small hive on site and the bees get all their nectar from the fruit trees on the farm.  The honey produced here has won the top prize in the Hawaiian islands and it was unlike any honey we'd ever tried.  Slightly more runny, it and not quite as sugary sweet as the commercial honey you buy in the teddy bear jar, it smelled like flowers and tasted light and sweet and magically pure.  There is a satisfaction in tasting something so natural, made the way nature intended.  Of course I just had to buy a jar to bring home so my boyfriend Jordan could try it.  He agreed, best honey ever!
After our tour, we proceeded to the chocolate orchard and learned what it takes to grow this magical plant.  We learned that the cacao plants with the right care can grow and thrive in Hawaii, and that the Lydgates are working with other farms to establish a chocolate cooperative in the islands. (Hmmm maybe being chocolate farmers on Hawaii sounds like something I'd could see Jordan and I doing when my kids are all grown).  We learned about the plant itself and the pod that grows out of it's side that is filled with seeds which are bitter to the taste and require some processing to turn them into the chocolate we know and love.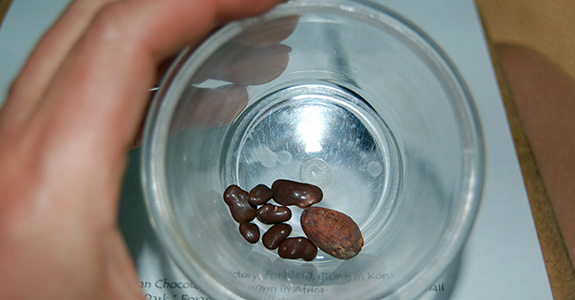 Moving into the tasting tent we were all seated around a table where that process was explained. We  learned all about how the pods you see are turned into the chocolate you eat and how different variations of processing the beans and the cocoa butter can result in different types of chocolate. After all the explanations it was time to let our taste buds be our guide.  We were given a note taking sheets and  given 10 different blind samples of various chocolates from different regions around the globe.  After tasting each one we wrote down our impressions what we  tasted.  Smoky, berry, vanilla,  cherry-these were definitely flavors and aromas we could taste along with many others, much like people describe when they do a wine tasting.   Everyone had a different favorite and it was really fun to compare our impressions.  Some I liked and some were just ok and after all the note taking we waited for the big reveal. Who liked  the gourmet bar from Ecuador and who preferred the Hershey's dark? I am not going to give it away, but I'll just say I have a new favorite chocolate bar that I have to buy at Whole Foods and I would never have discovered it if it weren't for our chocolate tasting. You can probably figure it out by checking out my tasting notes in the picture below.
It was all so educational and unbelievably fun. We are now quite the chocolate connoisseurs and you will be too when you visit the Lydgates at their  farm.  This is a very special DO NOT MISS experience