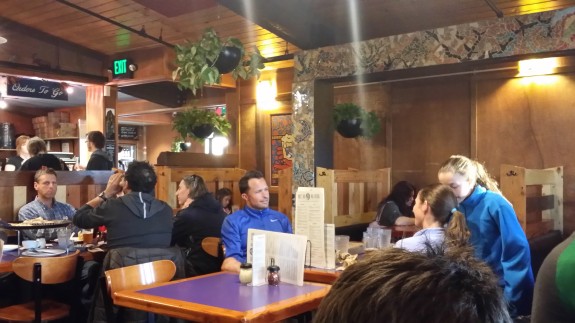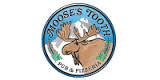 As I've said many times before, locals are usually the winning bet for finding out where to get the best food.  Arriving at the Embassy Suites Anchorage in the evening, my crew was famished . We asked the front desk clerk where we could grab a bite since it was already late (9:30 pm).  She told us we just had to try The Moose's Tooth Pub and Pizzeria around the corner-gourmet pizzas, salads, and other yummy treats all sounded right up our alley.  Leaving our stuff in the room we headed right over.  We arrived to a packed to the rafters restaurant with a 30 minute wait-wow, 10pm and this place was BUSY-I wondered what the heck they were giving away.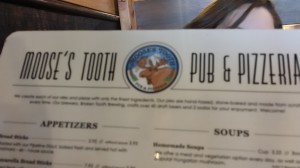 During the Alaskan summer the sun doesn't set until very late, in fact while we were in Anchorage it didn't get dark until about 11:30 at night.  Normally we'd be totally wiped, but because of the daylight we weren't sleepy at all-and neither was anyone else for that matter, in fact they were all at this restaurant.  As we were waiting, we took in the scene- a local brew house with a super cool hipster vibe. I especially loved the artwork featuring sort of nuevo art deco woodcut style posters of the restaurants namesake.  We saw all kinds of pizza pies coming out of the kitchen and luckily it wasn't too long before we made our way to the table.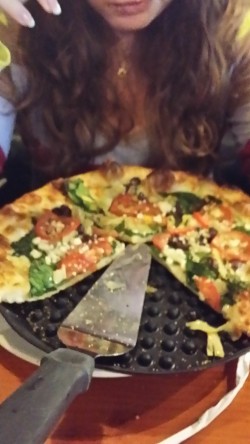 The kids each ordered a personal pizza -nothing too adventurous-a margherita (Lilia), a basic cheese (Isaac), and a tomato with pesto (Joel). Though it took quite awhile for the food to arrive (remember, the kitchen is super busy) what finally made it to the table was really food. The dough had a nice chew and the toppings were super fresh.  Although we normally prefer a thinner crust, the pizza was mighty delicious, with the melted cheese strings in evidence as everyone lifted a slice. I on the other hand had a salad with a nice selection of fresh veggies and greens and some super spicy "buffalo" chicken. It was tasty but just a tad too spicy for me-and I like spicy.
They had some awesome decadent desserts on the menu as well but the kids and I were stuffed and at 11:30 decided to call it a night. As we walked out, I couldn't believe this place was still popping.  Almost every table was filled and a few folks were still waiting to be seated. I guess as long as the sun is up, Alaskans are down for a good meal. Super family friendly, the kids and I give this place a thumbs up.  In fact it was so good we actually ate here twice.