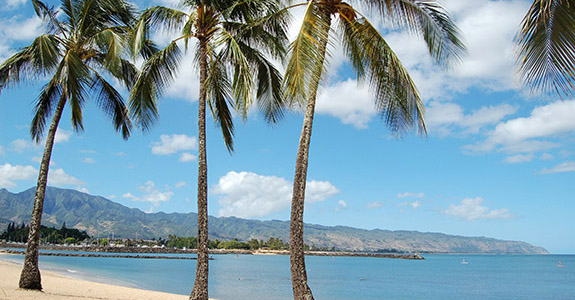 Can I tell you—Honolulu has some horrific rush hour traffic. I could not believe it, I thought I was back home in Los Angeles! Once we got out of the main part of town heading toward the North Shore it was smooth sailing and back to the low key Hawaii that I love. We headed up to the North Shore and Sunset Beach made famous for all the surfing competitions that happen there in the wintertime when the huge waves roll in bringing the best surfers in the world. During the summer though the water is practically still with no surf at all.  I was hoping we'd get to see some kind of display of the local surfing talent, but we found out all the action during the summer is on Waikiki when the currents shift.  Oh well, the gorgeous scenery was nothing to complain about.
During the summer months the North Shore is tranquil and beautiful, like a picture postcard.  Surfing is a huge part of the culture up here and it was fun to explore it in the sleepy little town of Haleiwa's shops and restaurants.  It was really comforting to know that places like this exist outside of the metropolis that is Honolulu.  Another slice of island paradise.
Check out this nifty car we found near the shore. The super friendly owner snapped our pic. I just love it!