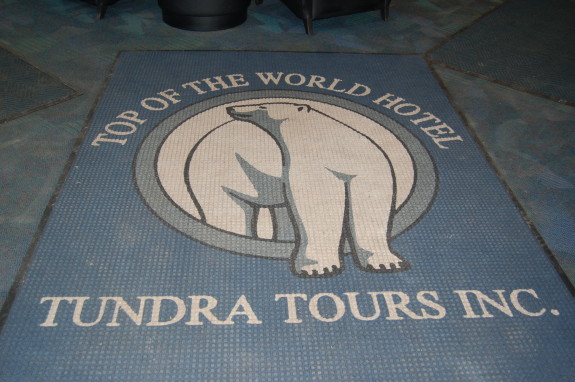 Barrow is the northernmost city in the United States located at the very top on the Alaska coast on the Arctic Ocean.  It's a place most folks will never visit but coming here was very important to me.  To me visiting a remote place like Barrow is what it truly means to savor life-to take advantage of a once in a lifetime opportunity to discover a place so unique, and a lifestyle so different from our own. There was no way were were exploring Alaska and not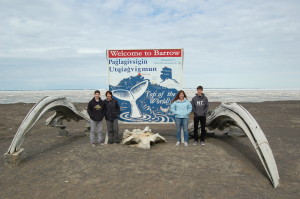 visiting the "top of the world" so we made arrangements to fly in for the day and take a 5 hour tour. Barrow is home to the largest native Alaskan settlement and the Inupiat people who take great pride in maintaining their customs and traditions, passing them down to generations, while incorporating them into a modern way of life. Touring Barrow opened our eyes to a life that is so incredibly different than our own, and I am so grateful we had the opportunity explore what life is like above the arctic circle-our adventure and the impression it may on me will stay with me forever.  Learning about the Inupiat in Barrow not only exposed us to a whole other culture, but also left us thinking deeply about our own.
Flying from Fairbanks we first stopped in Prudhoe Bay,  before making our way to Barrow. The airport in Barrow was the tiniest airport we'd ever seen-it's a two room warehouse which is no surprise given the small size of the town-about 6,000 residents.  At the airport we met our guide from Tundra Tours-an affable fellow named Forrest-a local Inupiat native in his late twenties who told awesome jokes and kept us completely entertained for the entire tour. Before our tour we made our way to the Top of the World Hotel to rendezvous with our fellow tourists some of whom had stayed the night. The hotel by the way is quite nice and modern inside. We ate a nice lunch at the hotel's restaurant call Niggivikput (which loosely translates as "the place to eat") and then met our fellow tourists as we loaded onto our little bus.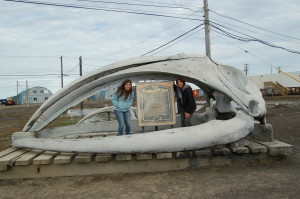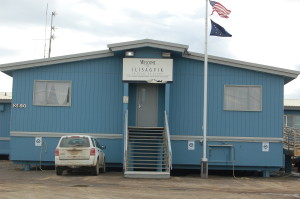 To be perfectly honest, our first impressions of Barrow were-grey, muddy, cold, isolated, remote and slighty dreary. We were here during the height of summer, I could only imagine what life was like in 40 below winters with the sun barely rising. Folks here literally build their own homes-they are very small box like structures set above ground (which at this time of year is mud). There is nothing glamorous about Barrow, but as you explore, Barrow's beauty reveals itself in it's community, traditions, and commitment to the ancient ways-something that is lacking in the modern fast paced and shallow world in which the rest of us live.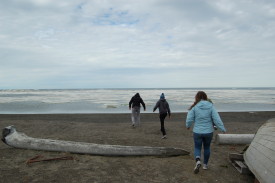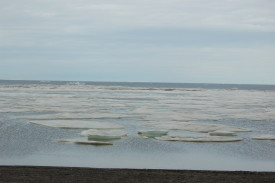 Forrest drove us all around town. We visited the college (which in Inupiat translates into "The Place to Learn") which is a repurposed army base from the cold war era. Staring at some whale bones, Forrest told us all about the Bowhead whale which is a huge food source for the local population. From there we headed to the beach.  It was thrilling to see the Arctic ocean.  It was a greyish blue with small floating pieces of ice as far as the eye could see.  I kept looking for a walrus, or polar bear but there were none to see. All I could keep saying to myself over and over again, is I can't believe I am REALLY here! Brave Lilia took off he shoes and stood in the water taking it all in.  It was a very special moment and a true once in a lifetime.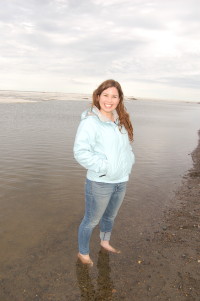 From there we explored some of the tundra which is really a spongy marshland that is partially frozen. We went to a few shops and then headed to the Inupiat Heritage Center. There we toured some interesting exhibits and watched a beautiful performance by local young people preforming a few of their native dances.  We also met some local artisans who did amazing carvings on baleen-(the stuff in a whales mouth that allows them to filter the krill that they eat) a material similar to your fingernails. It was an awesome and totally unique souvenir.  I felt good buying it because so many of these folks here battle addiction and being artisans keeps them busy and out of trouble.  At the time the 4th of July games were going on so Forrest took us to check it out.  It was a large community gathering with food vendors and some competitions like running and jumping.  Sadly we didn't get to see some of the more traditional competitions like the blanket toss, but we did sample some local teriyaki caribou skewers called "tutu"  They were fantastic!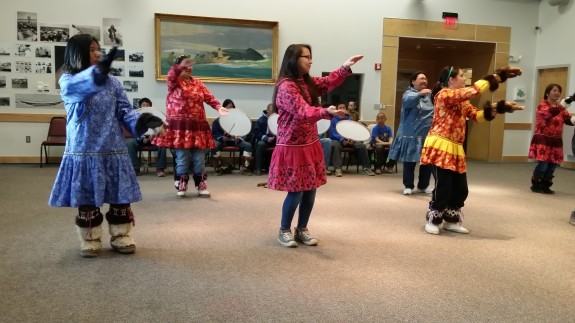 Forrest also took us to the local market.  We were shocked by the prices for basic foods that we take for granted.  A half gallon of organic milk almost cost $12, orange juice about $18. Before heading back to Anchorage Forrest plied us to try a native dish called Muktuk-frozen whale meat (actually it's frozen whale blubber and some of the flipper).  I would't touch it, but my boys gave it a try. It wasn't horrible but I don't think they'd eat it again.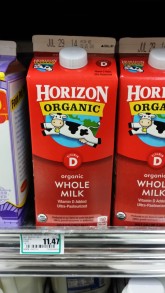 All in all it was a wonderful and soulful experience.  It's funny, I had read some negative reviews on Tripadvisor saying there wasn't much to see, or that the beach was dirty and the town dreary.  If you take a quick look, you'll see that when you visit, but to really appreciate Barrow, you have to look beyond the surface and understand what it takes to live in a place like this. With deep reverence for their elders, passion for their traditions, and commitment to preserving their way of life there is much we can learn from this community.
If you do get a chance to visit Barrow, make sure you take a tour with Tundra Tours.  We encountered some folks on one of our stops who were touring on their own and seemed a little lost.  Although it might be tempting to check out Barrow on your own without a guide and save some (actually a lot of) money, don't do it.  You will miss everything that made this visit so special-hearing stories from your awesome native guide who will tell you first hand what it's like to live at the top of the world, tasting unique and interesting native foods with a proper explanation and what it is and where it comes from,and it's connection to native Alaskan culture, and experiencing daily life as you are treated like visiting family. A real adventure indeed!