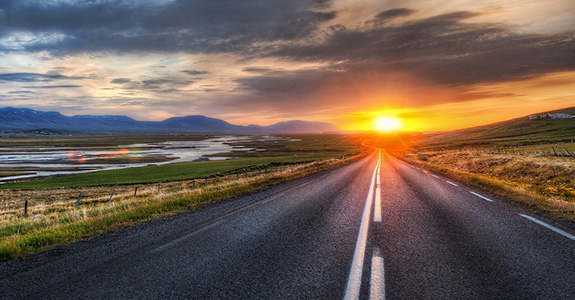 So you're trucking along the highway watching the scenery fly but the scene isn't complete without a soundtrack. Ever watched a movie without the score? You would be amazed at how different it feels-sort of flat, like a great dish without seasoning, it's just blah! Music adds another layer of emotional involvement that connects us so that instead of just seeing, we are experiencing.
On every trip I have taken with my kids, prior to leaving, I've crafted a playlist of songs that are somehow related to the area through which we are traveling. Not only has listening to this eclectic mix broadened my kid's musical knowledge, has also helped trigger happy road trip memories whenever we hear those songs play.
Here's my list of the best "All American" road songs to get you started. For all you techies, you can access this list by following ExploreAll50 on Spotify.
For you old-schoolers, here's the list ... enjoy the ride!
| | |
| --- | --- |
| "American Music" | The Blasters |
| "American Pie" | Don McLean |
| "Living in America" | James Brown |
| "Take Me Home, Country Roads" | John Denver |
| "This Land is Your Land" | Peter, Paul, and Mary |
| "Drive By" | Train |
| "Small Town" | John Mellencamp |
| "R.O.C.K. in the USA" | John Mellencamp |
| "Born in the USA" | Bruce Springsteen |
| "On the Road Again" | Willie Nelson |
| "Beautiful World" | Devo |
| "Blue Hotel" | Chris Isaak |
| "Dust In The Wind" | Kansas |
| "Go Your Own Way" | Fleetwood Mac |
| "Hit the Road Jack" | Ray Charles |
| "Holiday Road" | Dirt Bike Annie |
| "In God's Country" | U2 |
| "Open Road" | Bryan Adams |
| "Party In The USA" | Miley Cyrus |
| "Road to Nowhere" | Talking Heads |
| "Vacation" | The Go-Go's |