Road tripping can be fun and incredibly educational but it can also be a great way to explore a particular interest, pastime or hobby, such as baseball.  On my last road trip to New England, I had the great pleasure of meeting the Richmond family who make their home in Boston and are dedicated Red Sox Fans.  Larry and Tracy are the proud parents of Caleb and Owen (ages 10 and 8) and their family has taken on the quest to visit as many baseball parks as possible to watch their team play.  If you don't already know, Red Sox fans take their baseball very seriously (according to Tracy, the first thing Owen does in the morning is check the scores). Larry has been a season ticket holder for 15 years and started talking about the idea when the kids were still in diapers.  Their goal is to try and see at least 2 away games per year. Now that's what I call dedication.
So here's what they've done so far: They started their project in the summer of 2012 and went to Chicago to see the Sox play the Cubs at Wrigley Field and then to NYC to see them play the Yankees at Yankee Stadium. They had so much fun that they went to spring training in Ft. Myers Florida during spring break and then this summer hit the west coast visiting San Francisco to watch them play the Giants and then to Los Angeles to watch them play the Dodgers.  According to Tracy, they don't have a goal, but they want to get to as many away games as they can.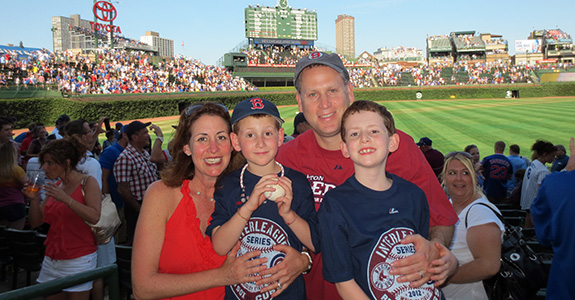 Part of the game plan is to also learn about the city their visiting taking in the sights and sounds of tastes.  This summer the Richmond family explored San Francisco, Los Angeles and Seattle getting acquainted with the Golden Gate Bridge, Hollywood and the Experience Music Project.  They also indulged in some west coast treats like In-n-Out Burgers and Sprinkles Cupcakes-and the best thing is they did it together.
As I have said over and over again, travel is one of the best ways to create family memories and create a personal history.  One experience the entire family will never forget took place in Ft. Myers during spring training.  While watching their favorite players warm up on the field, the boys were asked if they'd like to yell out  "play ball" at the start of the game.  It was the thrill of a lifetime, and Tracy captured it all on video.
So if you have a favorite activity, or passion, travel can be a great way enjoy it while exploring new places and creating new memories.  You can follow the Richmond family's lead if baseball is your thing, or find whatever else moves you and seek it out across the USA.  Whatever you do, get out there and explore, spend time together, and make every moment count.