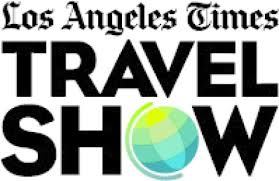 The Explore All 50 Project was an exhibitor at the Los Angeles Times Travel Show at the LA Convention Center last weekend January 18-19th and was totally overwhelmed meeting so many wonderful folks who are interested in traveling throughout the US and are on a quest to see all 50 states.
It was great fun to introduce our website to so many new fans who were really enthusiastic about planning their next trip using our resources and helpful hints. We signed up lots of folks for our newsletter and hope everyone will spread the word about www.exploreall50.com.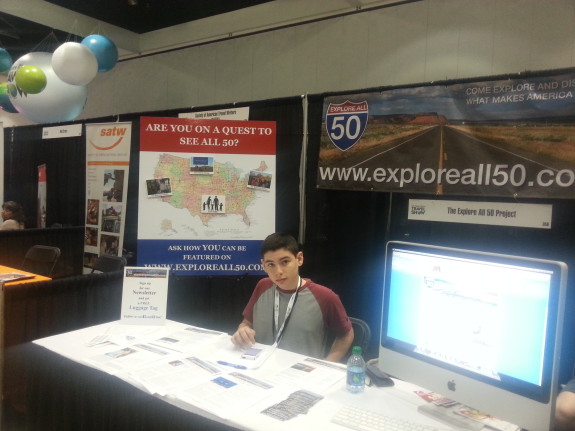 We started off on our first day with an interview with KTLA's roving reporter Gayle Anderson which aired live on the morning news.  What a fun experience that was being on live TV, click here to see the clip.Folks were lined up waiting for the show to open and as soon the security staff lifted the ropes everyone was off and running.  Instantly we had people asking us who we were and what we were all about.  I just loved connecting with so many passionate travelers like ourselves. We met a few folks who had been to all 50 states and many who were close to finishing like us. Almost everyone who came to check us out definitely wanted to see all 50 and it was really fun to listen to their stories and find out which was their favorite.
A handful of folks thought our booth was for Highway 50 asking us if it was like Route 66 and where did it go and what they could see-which was pretty funny. One gentleman thought our site was for the over 50 crowd…Most folks were excited about travel in America, but a few we met felt that it wasn't exciting enough. One family with young kids walked by and when I asked them if the like to travel in the USA, without even stopping, the mom answered me in a sort of snooty tone saying "no, they like to travel MUCH further." That answer made me really sad because in as much as the rest of the world is really interesting, I think it's really important for everyone, kids especially to know who they are as Americans and to know their history-and there is no better way to do that than travel.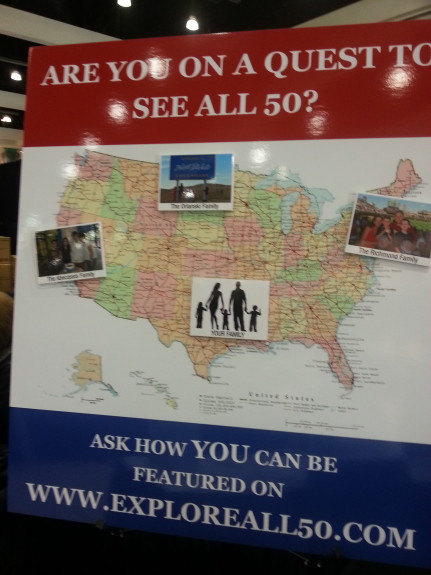 I have to thank my boys and fellow travelers Isaac and Joel for helping me out and telling our story over and over again to introduce folks to our site. It was a crazy two days but well worth the effort. Thank you to everyone who came by and signed up. We look forward to sharing so much more with our newsletters and connecting with everyone like never before. We'd also like to tell YOUR stories, so email me at Alisa@exploreall50.com if you'd like to be profiled on the site telling everyone about your quest to see all 50.