The state slogan of New Mexico is "The Land of Enchantment," but it seems it seems the food and regional cuisine is equally enchanting enough to get me yearning to come back to sample more of it's spice and spirit. Heck, I wanted to jump in the car and drive there several times while writing this article.
To get some authentic flavor, I consulted two people who really know food in New Mexico, my friend Jason and my Uncle Paul, both people I respect and admire for their vast general food knowledge and awesome restaurant recommendations. New Mexican cuisine is pretty distinctive so lets start with some of the truly authentic must try's shall we?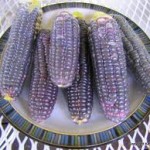 Blue Corn A true Native American staple used to make tortillas tortillas and a variety other tasty dishes.
Chilies Are essential to New Mexican cooking and you'll find them in just about everything here from hamburgers, to scrambled eggs and even dessert. They can be (fresh) green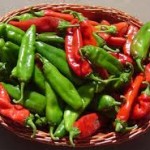 or (dried) red depending on their ripeness and range in flavor from mild and sweet to atomic spicy.
Sopaipilla According to Uncle Paul, loosely translates from Spanish to 'sofa pillow' (although there is no true literal translation) and is a fried unsweetened (fritter like) shaped pastry or bread made from flour and can be stuffed or dipped in honey for sweetness. They are a close cousin to Indian fry bread and are a definite must try.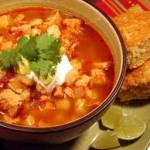 Posole A traditional soup or stew made from dried maize (corn) kernels which have been treated in a process called "nixtamalization"(meaning it's been soaked in lime-not the fruit). Note that dried chilies, onions and pork or chicken can be added on occasion making it an all in one meal.
Pinto Beans These are not your out of the can refried variety, these are whole beans cooked and spiced to perfection making them the ideal compliment to any New Mexican meal.
Now that we've got the basics down, here are a few suggestions from Jason and Uncle Paul to find the best examples of New Mexican cuisine.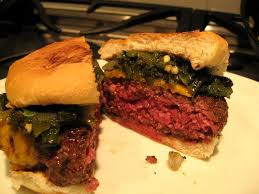 Jason, is a guy that knows hamburgers. When asked about his favorite New Mexican eats he didn't hesitate for a second "Bobcat Bite in Santa Fe for the best hamburgers known to man." If green chile cheeseburgers are all the rage, this place seems like somewhere you might not want to miss-but be forewarned-it's now known as Santa Fe Bite. He also mentioned Los Cuates in Albuquerque for New Mexican featuring a wide variety of regional dishes.
My Uncle Paul, grew up and went to high school and college in New Mexico and has been cooking for four decades. He cares about precision and thus spent two hours on the phone with me describing several traditional types of food. I hope I got it right! Two of his top restaurant picks were La Posta De Mesilla, in the south, which started out as a pony express stop (hence the name) and Rancho de Chimayó in the northern end of the state.
I will admit I have only been through the state twice with a brief sleep over on a few cross-country road trips but after exploring this tasty and unique cuisine, I am hungry to get back and sample what I missed.
Is there a way I can get all of the above, in a carry-out order?
By Jeff Shoer
If you'd like to read more about Jeff's food and travel experiences click here. His upcoming blog can be found at www.foodintravel.com