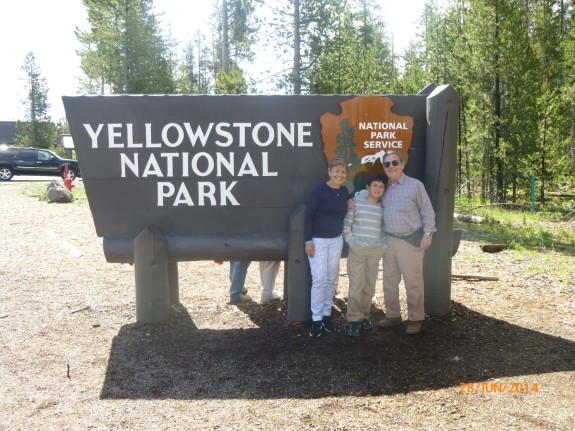 Most of the road trips here on Explore All 50 move at a pretty quick pace, but that can be a little daunting for seniors like us. If you are looking for a little more leisurely experience through Yellowstone, here's a 10 day road trip that allowed us to spend some truly memorable time in America's first national park as well as take in the 4th of July festivities in Cody, Wyoming-home of the Cody Stampede Rodeo.
Several months ago, our youngest grandchild, Matthew turned 10 making him eligible for a solo trip with Grandma and Grandpa. Matthew is a "nature kind of guy" so we thought exploring Yellowstone National Park would be a great choice especially since we hadn't been there either. If you are planning a trip with grandkids, Yellowstone National Park is about as "kid friendly" as it gets. If spurting geysers, bubbling mud pots and wild animals can turn adults into kids, then you can just imagine the impact it can have on a 10 year old who can't wait to explore the wonders of nature.
Flying from Matthew's home in Houston to Cody, Wyoming, we rented a car and spent the night before embarking to the to what would be our home base for the next 4 nights. The 4 hour drive to West Yellowstone took us through the park across breathtaking vistas. We followed the Yellowstone river as well as the perimeter of the enormous Lake Yellowstone through majestic pine forests, alongside waterfalls and snowcapped mountains through rolling meadows filled with colorful wildflowers and occasionally some buffalo. Lodging in the park itself books up years in advance so we stayed at the Grey Wolf Inn in the adjacent town of West Yellowstone.The only inconvenience of staying outside the park is the daily entrance fee, but as senior citizens we were able to purchase a lifetime pass to all the national parks in the country for only $10.00. What a great deal!
Our first day was spent learning all about the volcanic activity in the park. The many steaming geysers and colorful boiling mud pots that you see throughout the park are to due the fact the Yellowstone actually sits atop an active volcano. Make sure that you don't miss Old Faithful, as it shoots water up like a fire hydrant right on schedule. You can learn all about the many natural attractions at the park at the wonderful visitor centers.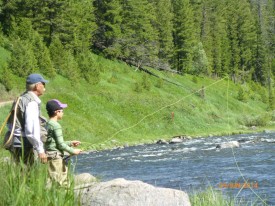 Fishing is another wonderful and slower paced activity that everyone enjoyed. On our second day in the park, we rented some equipment, hired a guide at a tackle shops in West Yellowstone and decided try our hand at fly fishing. We practiced our technique, casting our flies on the water and reeling them back in. It all felt like a scene out of the movie "A River Runs Through It". In about four hours we caught one tiny trout but had to throw him back. Even though we didn't catch much it was still fun spending time together in such a beautiful and tranquil place.
On day 3 we drove around Lake Yellowstone to Bay Bridge where we took a one hour cruise seeing the sights and learning about the lake. On the way back, we stopped at Grant Village, another fun place to explore and had dinner at a lovely lakeside restaurant. On our final day in Yellowstone we went for a horseback ride. Matthew had never ridden before but took to it like a natural. A slow ride through the park was the perfect way to end our visit-even if grandpa had a tough time re-adjusting after a few hours in the saddle.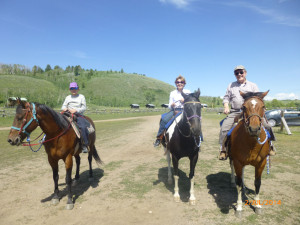 We left the next morning, July 3rd, for the return trip to Cody eagerly anticipating the festivities for the 4th of July. Spending the 4th of July in small town America was so uplifting and made us all so patriotic. This is Cody's most important celebration of the year and the town was packed with tourists. The buzz and excitement was a real contrast to the tranquility of Yellowstone. The celebration starts on the 3rd with a big parade that goes down the main street and it repeats the next morning on the 4th. Our hotel, the Holiday Inn was on the parade route so after breakfast we sat down on the curb and watched the parade go by. What a thrill to see the marching bands, equestrian groups, and native Americans and cowboys of every description along with floats and some souped up cars. After the parade there was a celebration in the central park with the usual county fair foods and craft exhibits.
At 5pm., we were taken by shuttle bus to what was surely the highlight of the entire trip-the Cody Stampede. The Stampede is a rodeo competition where cowboys compete for championship titles accompanied by large purses. There were bucking bronco competitions, roping competitions, Brahma bull riding and more. It was very exciting especially for city slickers like us. At 7:45 we rode the shuttle back and waited for nightfall for the beautiful fireworks display. This was the best Independence we'd ever experienced.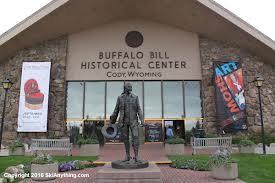 For our remaining days in Cody we tried a "scenic river float" which had some unexpected white water leaving us soaked but kept us laughing the entire time. On the final day, we visited the Buffalo Bill Museum and Historical Center. This complex of five museums in one is a real gem and one can easily spend an entire day there. But alas, Matthew is still 10 and his attention span gave out after a couple of hours.
Sometimes it's nice to move at a slower pace and enjoy the best of what somewhere like Yellowstone or Cody have to offer. This itinerary was perfect for us grandparents who move at a little slower pace and for Matthew. We all got to enjoy a very special trip together that moved at the perfect pace, allowing us immerse ourselves in the beauty of nature and made us proud to be Americans.
Here's our itinerary for our ten-day road trip
Day 1 Fly to Cody, Wyoming and drive through Yellowstone to West Yellowstone
Day 2 Explore Yellowstone-Paint pots, geysers, and Old Faithful Inn
Day 3 Fly fishing with a guide
Day 4 Cruise around Lake Yellowstone and dinner Grant Village
Day 5 Horseback Riding in the park
Day 6 Drive to back to Cody,
Day 7 Watch July 4th parade and then join celebration in Central Park, Cody Stampede and fireworks after dark
Day 8 White water rafting
Day 9 Explore Cody-Buffalo Bill Museum and Historical Center
Day 10 Fly home