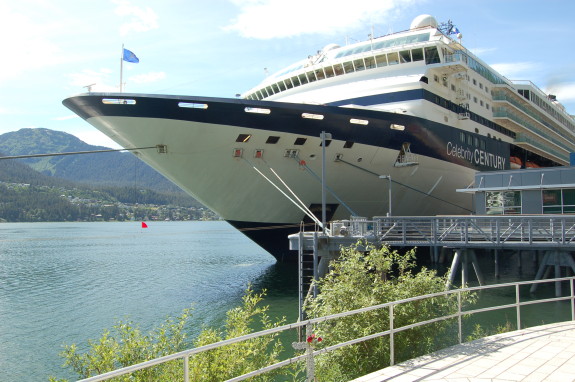 As we sat on the dock in Juneau, Alaska a couple of weeks ago we couldn't help but notice the gargantuan cruise ships docked in the port.  As they easily floated in and out of the harbor it was hard not to think about whether we'd made the right decision not to do a cruise, which is the way most folks choose to tour Alaska. My family has had some experience with cruises in the past (a Disney cruise in the Caribean) and we've decided it just isn't for us but I will admit it does have it's merits especially for Alaska and Hawaii, where it can be challenging to do a typical road trip.  If you are contemplating at trip to the 49th and or 50th states, here are some things to think about to decide if a cruise is a viable option for you.
PROS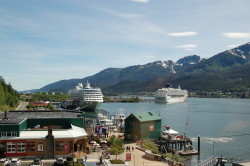 • Much more economical way to travel as everything is all inclusive with the exception of on shore activities.
• No need to worry about packing and unpacking, you are in the same room every night
• No need to worry about restaurants or pleasing picky eaters, there's something for everybody on a cruise-even a midnight buffet
• Ability to cover a large area without needing to rent a car or book flights (ships usually sail through the night arriving at the next port the following morning)
• Lots of shipboard activities to keep you busy between stops
CONS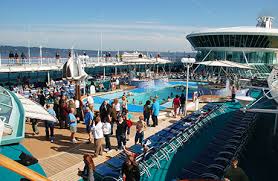 • Ships are huge but can sometimes feel claustrophobic and lodging can feel cramped
• Booking land activities through the ship can sometimes be more expensive and limited
• Can sometimes feel like a mad crush for food as everyone heads to the buffet / restaurants
• Possibility of ship board illness breakout
• Not too much freedom to be spontaneous or explore other areas you might want to check out.
Cruising definitely has it's merits and for Alaska, it's typically the way most folks choose to go. It can also be great for Hawaii if you would like to explore more than just one or two islands. Personally, my kids and I wanted to see more of the Alaskan interior and felt the cruise routes were just too limiting for us.  We would not have been able to see and do about half of the stuff we did had we been on a cruise, but then again we probably would have saved a ton of money as our multiple flights and car rentals cost us a small fortune, even with miles and points saved up to cover a fair amount of stuff.
As we found out on the road, some of the cruise lines like Princess have their own lodges and offer stays before or after your cruise.  My parents did that when they took a cruise to Alaska and said it was fantastic.  The importance is to explore all the possibilities, talk to cruisers who've had positive AND negative experiences and then make a well informed decision.