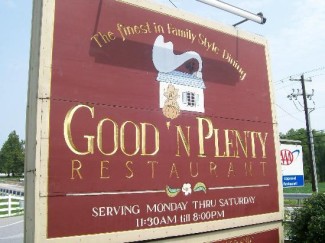 Having explored some of Pennsylvania Dutch countryside we were famished and came across this awesome little find as we were headed toward our next stop, Hershey Chocolate world. We'd seen some of the more "touristy" restaurants touting the local Amish cuisine but it just didn't seem authentic so we passed and I'm sure glad we did. If you are hungry and want to try some amazing fried chicken, head on over to the Good and Plenty restaurant in the next town over known as Smoketown.
Walking in we could tell this place is the real deal. Some of the servers wore their traditional bonnets and there were no electric lights, only those using kerosene. Also, all the shades were green, a tell tale sign of an Amish residence (as we were told by our buggy driver an hour earlier).
Service was pretty slow, but once the food arrived....wow. This chicken was crisp and juicy accompanied by mashed potatoes and corn and veggies. Oh, and definitely try the bread with the magical cinnamon apple spread...yummy! There were plenty of local folks in here along with a few tourists. If you are looking for an authentic experience, this is definitely it. Make sure to check out the little gift shop on the way out....and a word of advice...don't try on the bonnets.