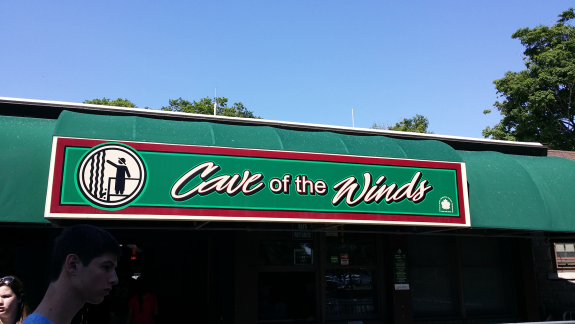 There are a few ways to get a more up close and personal experience at the falls provided you don't mind getting a little wet, and if it's a super hot day like it was when we were there, it can actually be quite refreshing. After finding out that the Maid of The Mist, the boat that cruises up to the falls was completely sold out, we discovered the Cave Of The Winds which turned out to be quite a fun and memorable experience.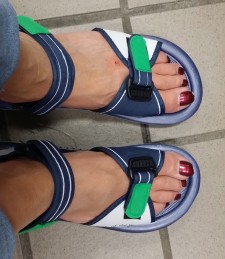 After purchasing tickets, we headed inside where we were given a "free" pair of water sandals.  Yes folks, you get to keep these souvenir sandals, and while my kids laughed at the idea, there were plenty of folks in line who were more than just a little excited. Next we stood in a long winding line and mugged for the for sale souvenir photo which you are under no obligation to buy ( which I usually do but the fee was so steep and the picture was just so so that I refused to pay for it.). After a lengthy wait we finally arrived at a tiny elevator that took us down to a moist tunnel where we could hear the roar of the falls....oh the excitement!!!
Once we emerged we were given yellow hooded ponchos and made our way along the trail to one of the most memorable and awesome moments on our entire trip... All I can tell you is be prepared to get REALLY wet as you come face to face with the crashing water as you stand on a ledge watching the torrent pour down right in front of you. Hearing my teenagers scream and giggle with delight was worth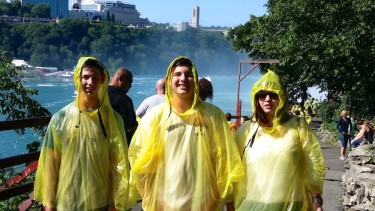 every penny of admission.  Sadly I couldn't capture those precious moments as I was too afraid to whip out my phone or camera. But if you've got a waterproof case, this is definitely the time to use it. By the end of the trail we were soaked and laughed about it all the way back through the tunnel and elevator ride.
It's safe and fun for all ages and if you get the chance to do this fun and amazing activity-Go For It. And then treat yourself and your kids to an ice cream treat while you dry off when your done!!