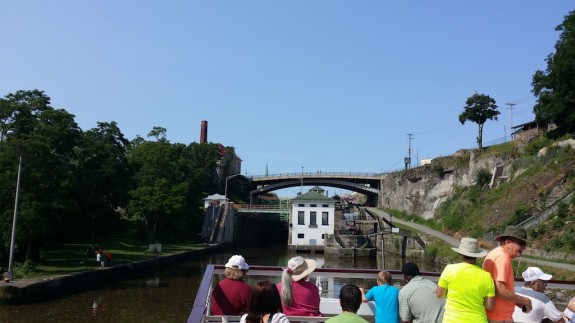 I am always thrilled by the marvels of modern engineering and so there was no way I was going to pass up a chance to learn about the canal and the lock system that helps boats traverse changes in elevation to move from one body of water to another.  The Erie canal cruise is a relaxed and laid back way to enjoy time on the water while you watch in awe at the fabulous way engineers found  to solve a problem moving cargo boats easily from Lake Erie all the way to the Hudson River over changes in elevation.
The Erie canal was a tremendous achievement as previously raw materials and other goods had to be pulled by pack animals over the terrain to get from one area to another. Construction started in 1817 and the canal was open for business in 1825.  It wasn't fully expanded the entire length that it is today until 1918. The backbreaking work of digging the canal was done by immigrants of Scots Irish descent.  While the cruise only traverses a small portion of the canal it's easy to see what a daunting task it must have been to complete.
The problem that needed to be solved was how to move boats along the canal with the changes in elevation. This was accomplished with the Lock system of which there are 36 along the canal route. What happens is the boat sails into the lock which is an enclosed space with two humongous doors on each side. Once the boat is inside the lock is flooded so that the boat raises up and then the doors open and is continues to sail on.  The same thing happens in reverse when the boat needs to go from high to low.  In this instance the lock is drained and then the boat sail out.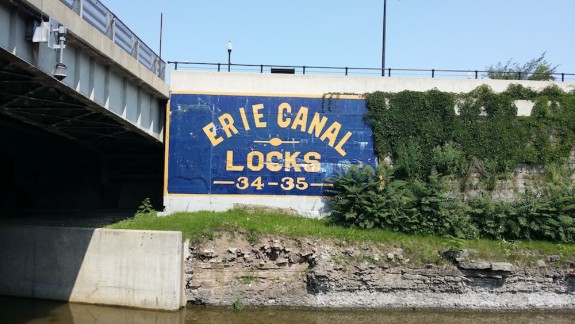 If you find yourself in the area, don't miss this amazing opportunity to explore the incredible ingenuity of the canal system and how it helped shape the history of New York State. It's absolutely fascinating.  Even my jaded teens were most impressed and that is no easy feat.  It's a definite Do Not Miss!!!