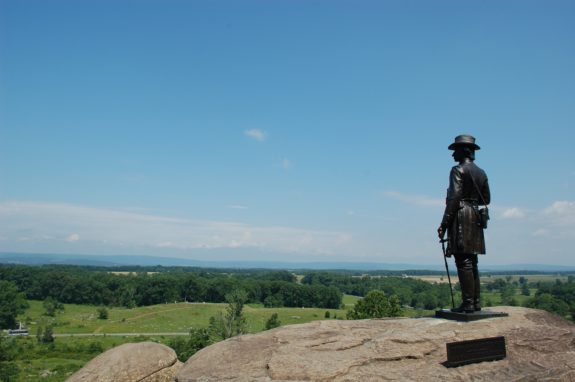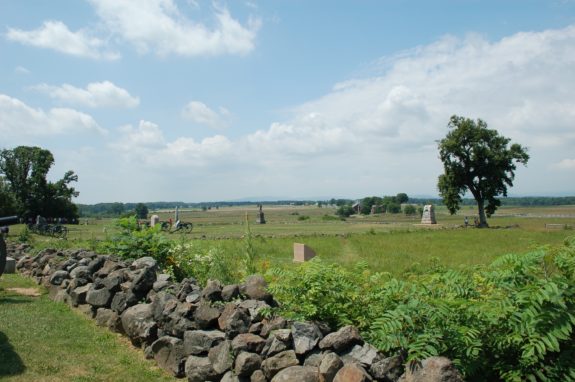 There is nothing that can prepare you for the solemnity and enormity of Gettysburg National Military Park. Visiting here was something I had looked forward to ever since taking on our goal of seeing all 50 states 13 years ago. But I could never have imagined what an incredible experience it would be with kids in high school-particularly enrolled in A.P. U.S. History. My kids and I would agree it was the highlight of our trip and an experience that every American should have to understand what can result from radically divisive politics.
Gettysburg is an amazingly immersive experience and if you are planning a visit, give yourselves an entire day to fully experience it. By far, the best way to explore the park is to reserve a licensed battlefield guide. The fee is $65 for 1-6 people, lasts about 2 hours and is worth every penny! I highly recommend reserving in advance to get the time you want-the guided private tours are exceptionally popular.
On our visit, we checked in at the visitor center and waited a few minutes to meet our guide, Renae MacLachlan a warm and wonderful person fascinated with civil war history and deeply knowledgeable. I handed her the keys to our rental car and off we went-yes-the guides will drive your car. It's totally fine-and honestly it was a great break for me to just relax and be a passenger soaking up all my eyes could see. Becoming a licensed battlefield guide is no joke by the way, it's a very difficult exam to pass-so rest assured whoever you get, they will be extremely qualified to answer any question you have.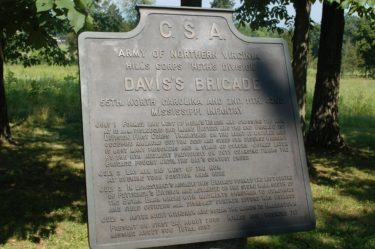 The first thing that you need to understand is that Gettysburg was one of the bloodiest battles of the Civil War and nearly 50,000 people were either killed, injured or taken prisoner here. This battle also changed the course of the war and led to the South eventual defeat. First Renae drove us through the town of Gettysburg where you can still see damage to many of the original buildings which are marked with a commemorative plaque. From there we drove past the cemetery where President Abraham Lincoln delivered the Gettysburg Address (we later returned towards the end of the day to pay our respects and to see the actual spot where President Lincoln spoke, imagining the scene). Then we looped around the battle sites making many stops to understand the progression of the battle from both the Union under General Meade and from the Confederate side under General Lee. Everywhere we looked there were monuments erected by the states who sent regiments located in the places where they fought. As you look at monument after monument the enormity of how many people fought here really starts to sink in.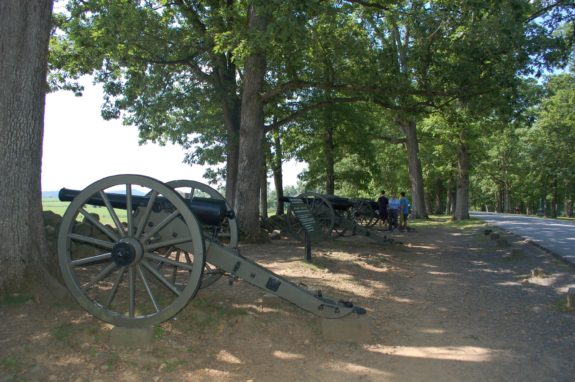 We saw original battlefield canons, took in the view above the Devil's Den (rock formation) and stared down from the ridge where Pickett's charge took place which was the epic turning point of the battle. Renae regaled us with incredible stories and explained each sides' strategy, victories and failures.
Joel was desperate to look for bullets or other civil war artifacts but Renae reminded us that Gettysburg is and will always remain hallowed ground. I so loved hearing my boys deeply engaged and asking really detailed questions. And Renae really appreciated having such attentive and well informed participants. You should have heard some of the ridiculous questions she's asked by some visitors. It's hard looking out at the expanse and not wondering what it was like for those who fought here, to read the monuments and not think about those men in those regiments, what they were thinking and feeling. The sweltering heat and humidity only added to the experience.
The saddest part of all though was hearing Renae describe the scene of parents having to come and claim the bodies of the sons killed in battle. Looking at Isaac and Joel my heart sank knowing had we lived at that time in our history that could have been our fate. My heart broke for those parents who gave their sons for their country and their cause.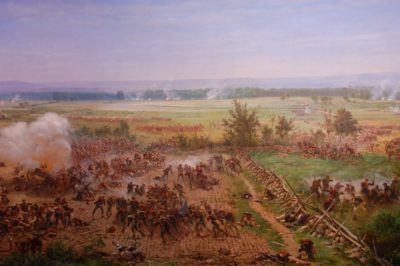 After our tour, Renae drove us back to the visitor center. We said our goodbyes and glad she accepted tips because she so deserved it! It truly was a magnificent and memorable tour. We headed back into the glorious air conditioning of the visitor center and explored the museum (which sadly I would rate a 5 out of 10). The museum seemed to just go on forever and told too many stories to keep folks interested but ended up just being a haphazard display. Honestly, if you really want to see some amazing exhibits, the smaller battlefield sites like Chancellorsville are infinitely better at telling the story of the civil war. The Cyclorama though is pretty amazing. It's sort of a 360 degree 3D painting where you can take in the entire battlefield in action. It sort of put into perspective everything we saw with our guide.
For me, imagining myself in the time and place is what makes visiting these historic sites so magical. It is one thing to read about them, but to stand there and transport yourself into the scene is what sparks a deeper meaning for me. It taps into who I am, what would I do in that situation, and that experience gives me profound respect for the events that took place there.  If you go, imagine yourself on the battlefield and what these souls sacrificed for their ideals and the future of our nation-some of them are still buried there in unmarked graves. When you visit take it all in-but always remember to treat the hallowed ground with the respect it deserves and instruct those traveling with you to do the same. Sadly many visitors we observed had no clue what that meant.