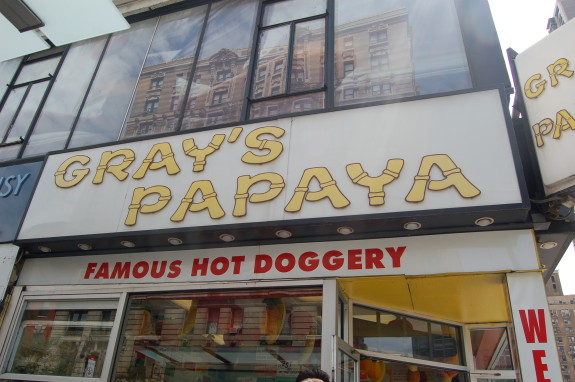 In the big apple you can get hot dogs on just about any street corner but for a unique experience, you can do what we did and head on over to Gray's Papaya-an interesting combination of hot doggery and tropical juice stand. Weird I know, but hugely poplar.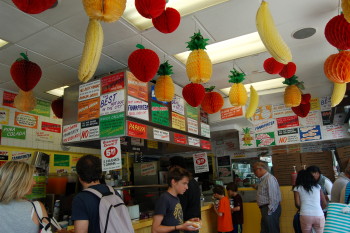 There's always a line here so queue up and place your order. We ordered some basic dogs which you can get with or without onions. From there add your condiments of choice. Dogs were kind of on the small side, and tasty but nothing special in our book-but we're not huge hot dog fans. However, if you're looking for cheap eats, or a nifty snack to keep you going, this is a fun experience. As a side note, this joint is open 24 hours and the prices are ridiculously cheap. You may think they are out of this world. Let's face it, folks aren't standing in line here for nothing…
More unique however are the weird smoothie-esque drinks which is where the papaya in Gray's Papaya comes from. Their other flavors include orange, grape, pina colada, coconut champagne and the ever popular banana dacquiri. We all thought the drinks were awfully sweet-but again, they are hugely popular. They reminded me a lot of whipped fruit drink called an Orange Julius from my childhood. I wouldn't go here for lunch, but it's a great snack on the run, especially when everyone's starving after plowing through museums.