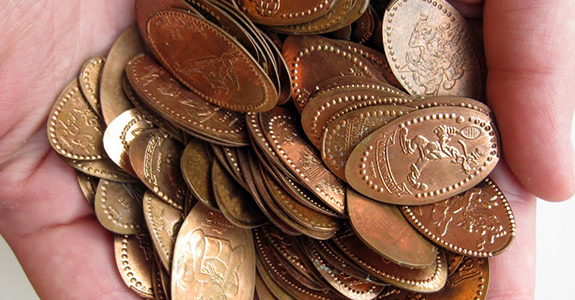 Who doesn't love souvenirs? Everyone wants something special to remember the trip, but nobody wants the excess baggage.  When you're traveling with a posse of kids and parents, those souvenirs can add up and weigh you down. I don't have room in my car for a bunch of souvenirs, and I certainly don't want to lug that stuff across the country. So here's what I got my kids into—the best souvenir that doesn't take up space:
Squish pennies!
There are these machines all over the country (you've probably seen them) called Squish Penny machines. You put in fifty cents and a penny, select a design (usually something cool about the state or site you're at), crank a lever, and it squashes your penny with an imprint of the design you chose. You can even buy a collector's book to store all those squish pennies from across the US.
My kids love squish pennies, so much that they've saved up about 200 from all over the country. On a good trip, each kid may end up with 20 or 30 squish pennies, so I keep them in my fanny pack and everyone gets a pocket dedicated solely to their loot.
Squish pennies are also a great way to find cool attractions that you may not have found otherwise. The website  www.PennyCollector.com lists all of the locations where you can find squish penny machines across the country organized by state and then city. I can't tell you how many interesting, quirky places we found using this website that we might not have discovered otherwise.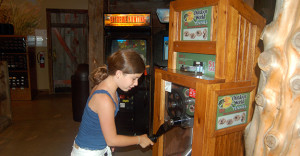 Not only are they great souvenirs, but they are also a simple way to keep your kids in line. If somebody acts up, they know that they won't get a squish penny at the next stop, and you better believe they all want their penny. But for the times when a kid does misbehave, a squish penny is the perfect punishment because it's something simple and small that they want, and you don't have to penalize the other kids who were good.  It also won't be long before they have another opportunity to get one so they get a chance to learn quickly from their mistakes and not dwell on the past.
So when you're traveling and have limited space, squish pennies are by far one of the best souvenirs. They're easy to carry, don't take up space, and are great reminders of all the places you've visited. Plus, kids just can't wait to turn the crank and get their penny!
Of course, for those times when you just have to have that museum book or exquisite vase from the gift shop, don't fret. Most stores will ship your item directly to your house, so you'll receive it after you return home from your trip—it's the gift that keeps on giving!