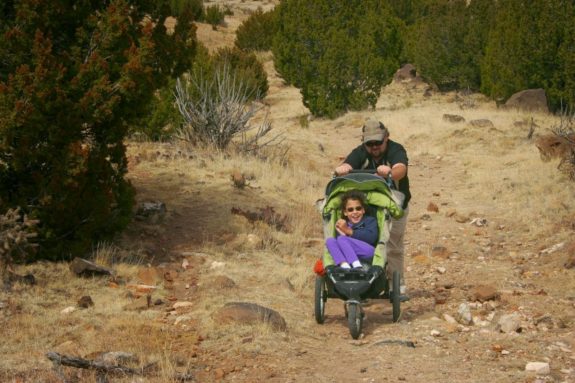 "Ain't no mountain high enough, ain't no valley low enough ain't no river wide enough, to keep me from getting to you babe"-that line from that famous song by Marvin Gaye and Tammi Terrell is the first thing that comes to my mind when I think of this amazing family and all they've accomplished to get to their goal of hiking a trail in all 50 states which they are set to complete very shortly.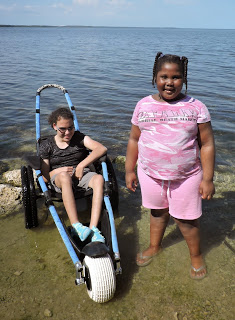 The Kain family has faced some remarkable challenges. Daughter Kellisa was born a micropreemie at 25 weeks and was diagnosed with hydrocephalus. Kellisa has endured 12 brain surgeries, has epilepsy and cerebral palsy but that hasn't stopped her and her family from their quest to not only visit but hike a trail in all 50 states. The Kain family believes in living life without limits and they are an absolute inspiration. Check out my interview with Chris Kain, Kellisa's dad ...
Alisa) Can you give me an introduction to the members of your family?
Chris) Chris and Lisa Kain. High school sweethearts married 27+ years. We're from Chicago, but lived in Jacksonville, Florida for 15 years before moving to Northern California earlier this year for my job as an Area Technical Manager for a construction products company. I've always enjoyed travel and outdoor adventures. Lisa joins us on a few of our trips every year, but also enjoys staying at home while I take the girls on an adventure. Lisa used some of her "peace and quiet" time to get her Master's Degree in Forensic Accounting.
Kellisa (17 years old) loves music, spiders, snakes, bugs, school, sports, hiking, camping, and all forms of travel (planes, trains, boats, long car rides, dirt roads, etc.). She really comes out of her shell when traveling and is in the outdoors.
Laurel is 7-years-old and has been bitten by the travel and outdoor bug like her sister. When she was just 3, I wanted to take her to the park and told her, "come on, let's do something fun". She got excited and said, "Are we taking an airplane?" She was probably the first 3 year old to be disappointed to go just to a park. She loves everything any other girl her age loves: mermaids, pop music, princesses, Frozen, singing and dancing. However, she also loves the wilderness and wild animals. Her favorites are bears and elk. She has also grown to be a huge advocate, supporter, and protector of Kellisa.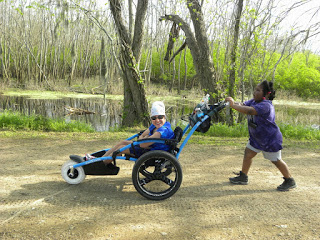 Alisa) How did you guys come up with the idea to visit all 50 states?
Chris) Kellisa was diagnosed in the womb with significant hydrocephalus. She also had a healthy twin sister, Kirsten. We were told that Kellisa would not survive her own birth. The girls were born at 25 weeks. Kirsten survived 27 hours. Her blood vessels were not fully developed. Kellisa also had an older brother (Everett) who passed away at 6 months due to a rare heart defect. After losing Kirsten, I went to the NICU alone to see Kellisa who was struggling to survive. She had already outlived her life expectancy, but we needed her to survive. I needed her to survive. I promised to provide her with as normal of a life as possible if she survived. Later that day, I set the goal to take Kellisa to all 50 states by her 18th birthday. Looking back, I can only speculate that this was my first idea because it meant Kellisa would survive and we would have a long term goal. This goal later grew to include her sister, Laurel and instead of just visiting, we would hike at least one trail in each state.
Alisa) Clearly there were some challenges, can you highlight some of the bigger ones and how you moved past them?
Chris) People. It seems like so many people are against us. They run to get in front of the family with a wheelchair, they tell us we can't do something based on Kellisa being in a wheelchair, TSA has pulled guns on us and even called the bomb squad because we travel with Kellisa's prescriptions. Some people act like Kellisa is contagious and won't even say hi to her after she says hi to them. Abled people use the disabled bathrooms and take disabled parking spots. Healthy people try to board planes before Kellisa and give us dirty looks or even insult us. We've had a National Park Ranger threaten to arrest us if we hiked on a trail because motored (wheeled) vehicles weren't allowed. We hiked the trail!
I've grown to accept this challenge and insert our rights while loudly standing up for Kellisa and all disabled people.
Alisa) Can you tell me each person's favorite spot and why they chose it. 
Chris) This is such a tough question. If I had to choose just one, it would be the Upper Peninsula of Michigan. Every square inch is so beautiful and there's so much to see and do, including: mountains, forests, beaches, islands, trails, museums, waterfalls, Lake Superior, Lake Michigan, and wildlife (bears, moose, etc.). The only thing missing is people and tourists.
Lisa- Crater Lake National Park for its breathtaking beauty. Lisa felt at peace and at ease as we spent a week at a cabin inside the park. Lisa enjoyed the hike down to the lake for the boat tour.
Kellisa- I think Kellisa loves all her trips equally, she's just loves everything about travel. If she had to pick, it might be her 16th birthday weekend to Maine. She sat on my lap and drove the car a couple of blocks in our neighborhood before catching our flight. Once in Maine, we did all her favorite activities: rode a historic train, hiked a trail on an island, rode a ferry to another island for her birthday dinner and cake. She also swam in the hotel pool. We did this all in 48 hours.
Laurel- She picked our trip last weekend to the Bonneville Salt Flats in Utah. It might be because it's most recent in her mind. The reason she gave- I liked hiking in the water, playing in the water, and the wet salty sand was like snow, but not cold
Alisa) As a dad, what has been the most gratifying part of your quest? And what would you say to families facing similar challenges to inspire them to travel and explore.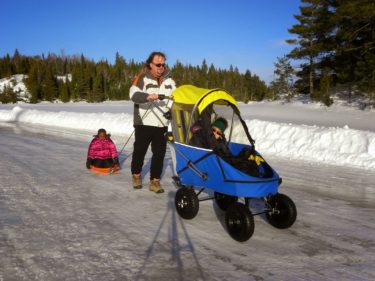 Chris) Watching my daughters thrive. People might think I drag them on these trips, but I would argue that they drag me. If you look at the pictures from our trips, the only ones where they don't have huge smiles are the ones I take of them passed out in a tent or hotel bed after a fun filled day in the outdoors. Plus, both girls have been completely accepted by the outdoor community. They both thrive while traveling and in the outdoor environment.
I hope to inspire other families of disabled and minority children to venture outside because sadly, you don't see many of either group in the outdoors. I love goals, lists and thinking big, but that can scare some people. I like to tell parents to just get outside, even if it's a local park or forest preserve. You don't have to travel the country to reap the benefits. We started out slow and local for several years.
Alisa)What is a typical trip for you guys, how long, what's involved?
Chris) Usually long weekends, 3-4 days. Although we've taken a few week and two week trips. Lots of planning. I enjoy the logistical part, but I really have to do my homework. Since we always hike, I research trails in advance. While we enjoy ADA trails, they are usually very short, not challenging and rarely lead to anything scenic, so I try and find trails that I know I can push Kellisa in her offroad mobility chair. I read trail reports and review pictures. Minor obstacles for most (large rocks, narrow trails, roots, more than a few steps, mud, etc.) will stop us and I try to find challenging trails without the obstacles.
Alisa) What state do you think will be your last and when do you think you'll finish.
Chris) Alaska and we will finish over Thanksgiving 2016 week.
Kellisa only needs Iowa, Hawaii, and Alaska. Laurel needs those three states, plus New York, Vermont and Massachusetts. We have a trip to Iowa and the New England states for later this month and then we have Hawaii and Alaska booked for Thanksgiving. I only need Hawaii and Alaska. Unfortunately, Lisa is a few states behind and won't finish her 50 in Alaska. But, we look forward to helping Lisa complete her 50 states.
You can find out more about Kellisa, Laurel, Chris and Lisa's adventures by checking out Chris's blog at www.kellisaspath.com. Their story just goes to show you that with desire and determination, no goal is out of reach. Explore All 50 is cheering from the sidelines.