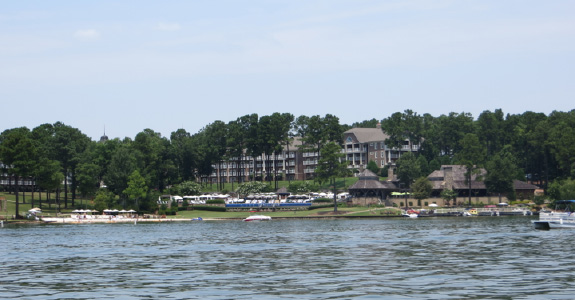 So my friend Barry and his wife Jodie have a cabin on Lake Oconee and invited us to spend a night and enjoy a day on the water-since it also happened to be on our way to Savnannah. It is a lovely spot and I would highly recommend staying at the hotel if you are in the area (the Lodge on Lake Oconee). It's so lovely, in fact, that Carrie Underwood got married here.
There are lots of activities like boating, jet skiing, kayaking and lots of other fun stuff.  . Spending a day here is a great way to just kick back, enjoy nature, and spend some great family time.

We boated out to this rock and then the kids swam to the stairs, climbed up, and leapt off.  I admired their courage, I could never do that.  What I truly loved though was this experience was so far outside what they might experience at home where we live in Los Angeles and felt like something right out of a movie for us. They screamed with delight and loved every minute of it swimming to the stairs and doing it over and over again.  That's Isaac in the pink trunks mid leap.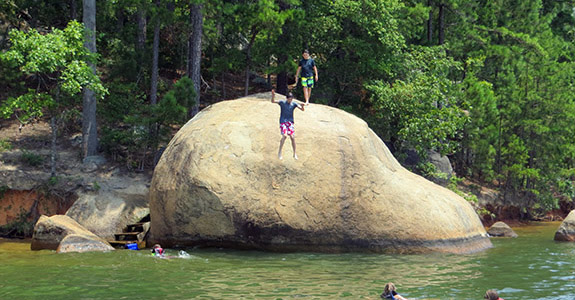 This was too much fun. Like sitting on a giant floating sofa being pulled by the boat. Captain Jodie put the boat in gear and we took off.  She bobbed and weaved which sent us up and over the wake.  The kids could not get enough of it.  Here Joel and I are hanging on as we're picking up speed.  Good Times!